If you're looking for the best telescopes for kids, you're in luck as we've got a selection of them in this handy guide. Another great bit of news is you won't have to spend a great sum of money to get your hands on them either, as it's possible to find a perfectly suitable instrument for under $100. There are options that are robust and portable, that can withstand minor knocks and be taken on camping trips. A lot of the best telescopes for kids come ready-to-use and are easy to set up, which you'll see if you read on below. 
Telescope glossary
Aperture: Diameter of the primary mirror or lens, which allows a telescope to collect light.
Field of view: Area of sky visible through the eyepiece.
Focal length: A telescope's tube length. Short focal lengths offer a wide field of view and a small image.
Focal ratio: Also known as the telescope's speed. Small focal ratios provide lower magnifications, wide field of view and a brighter image.
Magnification: Relationship between the telescope's optical system and the eyepiece. 
There are a few things to consider when picking out the best telescopes for kids, the first being what kind of subject you want to see. This will determine the type of telescope you pick: a reflector, refractor or a catadioptric telescope – the latter coming in the form of the Schmidt-Cassegrain and Maksutov-Cassegrain. If you want to see high magnification targets such as the moon or planets, a refractor telescope is your best option. But if you want to see fainter objects, like galaxies and nebulae then a reflector would be a better choice. Catadioptric telescopes can often be more user-friendly, are more modern and often computerized and are great for viewing a wide range of objects.
We've chosen not to include any Catadioptric telescopes below, just because they often come with a higher price tag, but you can find some in our best beginner telescopes guide. Some children don't always take to astronomy as we would hope, so our recommendation would be to stick to cheaper (but still reliable) models.
Of course, if you do want to want to spend a little more money, or a little more time looking at other telescopes, then you can always check out our best telescopes guide. Don't forget about checking out some of the best binoculars too, they are a cheaper alternative and still offer great views of the night sky.
If you are just looking for the best telescopes for kids though, or you're looking for one of the top telescope deals, read on below.
---
What we love about Celestron's FirstScope is that it's easy to use and pack away. There's also no need to set it up since it already comes assembled straight out of the box: a fantastic feature for the impatient youngster and parents who aren't keen on assembling a telescope on a regular basis. 
The FirstScope is portable, weighing in at 4.5 lbs. (2.04 kilograms), while the build is of good quality despite the low cost. As a prime example, the instrument's plastics are not glossy and cheap when compared to other telescopes within a similar price range.
The Celestron FirstScope is ideal for little hands since the tube can be pushed to the desired target with ease. Meanwhile, this tabletop reflector comes fully equipped for good observations of the night sky: two basic eyepieces — a 4 mm and 20 mm — are thrown into the package, along with a basic edition of Starry Night astronomy software. A great download for young skywatchers wanting to learn more about the universe.
Although there are screws to affix a finderscope to the tube, this FirstScope doesn't actually ship with one. A finderscope helps navigate the night sky and can be helpful for the budding astronomer. Without this it means there's quite a bit of trial and error in order to align the telescope with the chosen subject. To alay this frustration for young stargazers we would also recommend adding a red dot finder to aid hopping between stars.
With an aperture of 2.99 inches (76 mm), skywatchers are able to pick out bright solar system targets, including the moon, Venus and Jupiter, as well as luminous deep-sky targets like star clusters thanks to the optical system's fast focal ratio of f/3.95 that offers a wide field of view. 
With the supplied eyepieces, which work with the optics to provide magnifications of 75x and 15x, astronomers won't get hugely close-up sights of targets — something we discovered when we turned our attention to the moon. However, we were able to pick out craters and, despite a view that isn't massively pin-sharp due to a loose focuser, young skywatchers are sure to be delighted with what this telescope is able to offer.  
Hopping over to Jupiter, which dazzled at magnitude -1.9, views are basic but observers are able to pick out the moons of Jupiter comfortably using the FirstScope. Io, Ganymede, Callisto and Europa appear as bright points of light on either side of the gas giant's equator, but it is a challenge to detect Jupiter's atmospheric bands and belts without the use of planetary filters. Meanwhile, Saturn is seen as a small, faint and fuzzy object, yet with a steady eye, we could just about make out the gas giant's rings and yellow coloration. 
If you want a problem-free skywatching experience for a casual viewer then the Celestron FirstScope is ideal. Though, to really get the biggest bang for your buck we'd highly encourage accessorizing with a finderscope, eyepieces that respect the optical limits of 180x and 11x and filters.
---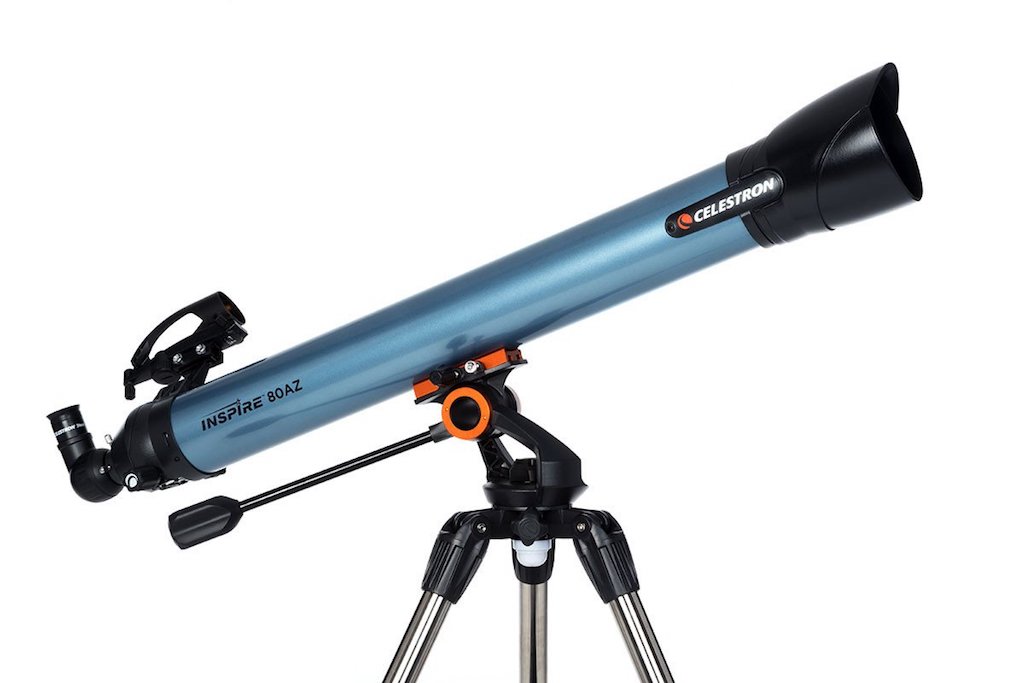 The Celestron Inspire 80AZ is a classic telescope that's both simple to use and assemble. If you know a kid who is happy to spend hours under the night sky, learning their way around without the aid of technology, then we fully recommend this well-built instrument.
This refractor makes use of an alt-azimuth mount and a panning handle for fine movements that allow the observer to accurately lock onto a target: some mounts cause telescopes to jump from one positioning extreme to another, but we're pleased to discover that we can make incremental adjustments to the tube's orientation with ease. Patience is required by particularly young observers, so we recommend supervision in helping them to navigate with the Inspire 80AZ. 
The Celestron Inspire 80AZ is supplied with a tripod, two eyepieces with focal lengths of 20 mm and 10 mm (offering magnifications of 45x and 90x), a red LED flashlight to preserve night vision, star diagonal, StarPointer Pro red-dot finderscope and Celestron's Starry Night Basic Edition Software. If you know that your young observer will be looking to share images of their astronomical finds with friends or may want to try out basic astrophotography, a smartphone adapter is thrown into the bundle.
It's not perfect though, and there's a little chromatic aberration (color fringing) hovering around the chosen targets, but overall it's not something to worry about too much for the price point. We were happy with the clear views of planets and stars the telescope provided. Impressively, Jupiter looks particularly radiant, with some of its belts visible. Uranus the ice giant is also identifiable as a faint star in the field of view.
The 3.15-inch (80 mm) aperture made short work of picking out starbirth at the center of the Orion Nebula (Messier 42), while magnified pin-sharp views of the Hyades star cluster in Taurus dazzled through the optical system. 
Given Celestron's decision to create a basic telescope for the beginner, the Celestron Starry Night Basic Edition Software is on a CD, making the Inspire 80AZ a touch "old-fashioned" compared to instruments that make use of downloadable smartphone apps. Nevertheless, it'll suit skywatchers who are uncomfortable with using advanced technology, making for a fuss-free observing experience. 
The Inspire range is also available in apertures of 2.76 inches (70mm) and 3.14 inches (100 mm). If you're looking for an instrument that's going to take a few years to outgrow, the Inspire 80AZ is highly recommended.
If the Celestron Inspire 80AZ is out of stock in the U.K. Try these great alternatives instead:
---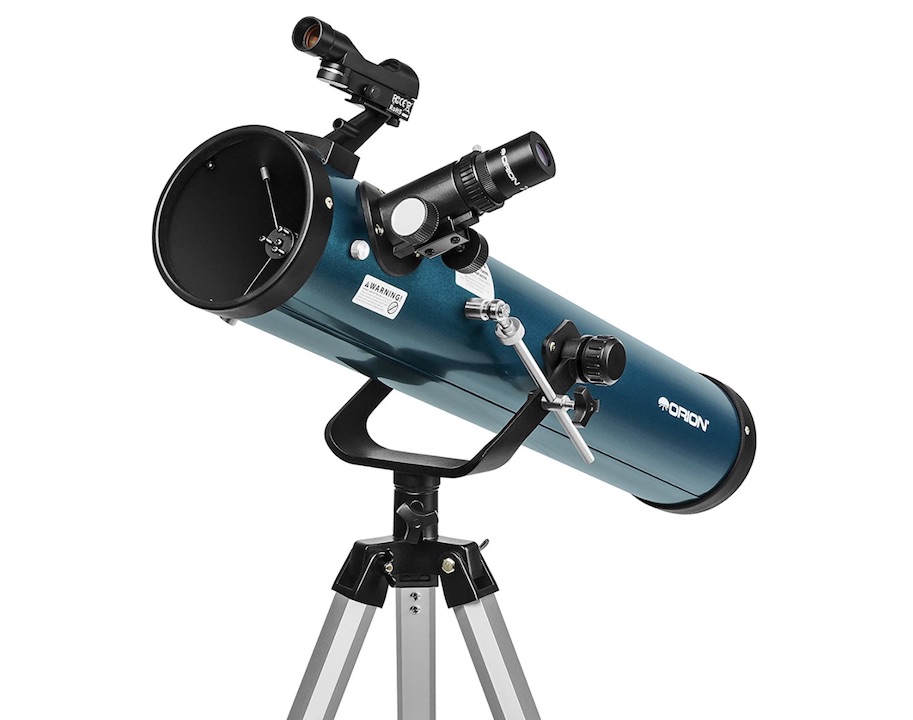 A reflector is often advised as a first telescope since the design promotes excellent light-gathering prowess for a low investment. The Orion SpaceProbe II is no exception, collecting 60% more light over most beginner instruments with apertures of 2.36 inches (60 mm). 
The Orion SpaceProbe II provides an aperture of 2.99 inches (76 mm), which — just like the Celestron FirstScope — will reveal the solar system, lunar surface and a selection of bright deep-sky targets up close. Weighing in at 7.05 lbs. (3.2 kilograms) the SpaceProbe is lighter than Meade's StarPro, which makes it a perfect grab-and-go telescope for kids: it's light enough to take on a camping trip or for quick observing sessions in the backyard. 
While it's lighter than the StarPro, the SpaceProbe II doesn't suffer in quality, particularly since its optical tube assembly is made of steel. Additionally, for slightly more budget, this reflector does come much better equipped: 10 mm and 25 mm Kellner eyepieces, red dot finder and a moon map are included in the package. If you're looking to spend slightly more, then several packages come with an extra planisphere, red flashlight and 2x Barlow lens. The immediate setup provides magnifications of 28x and 70x, but there is the potential to magnify up to 152x with the right accessories.
Fortunately, the SpaceProbe II comes with a red dot finder making star hopping easy even when stargazing in skies with a little light pollution. Adults will need to help young children with aligning the finderscope as well as building the telescope up: attaching the tripod legs to the alt-azimuth mount is a touch fiddly.  
Orion's SpaceProbe II offers wide-field views, making it ideal for more diffuse objects like bright nebulas and star clusters, however, we find that this reflector performs best with lunar and planetary observations. 
A word of warning though: due to the telescope's spherical mirror, views are not pin-sharp but — despite this — are sure to please young skywatchers wanting to get a closer look at craters on the moon and small, fair views of Saturn. For any kind of extra detail on chosen solar system targets, we recommend furnishing the telescope with additional eyepieces and filters.
While the Orion SpaceProb II is suitable for the whole family, it's especially suited to skywatches that are 10 years of age or below. It would also work well for those on a budget who are new to skywatching and aren't yet sure if it will be a long-term hobby.
---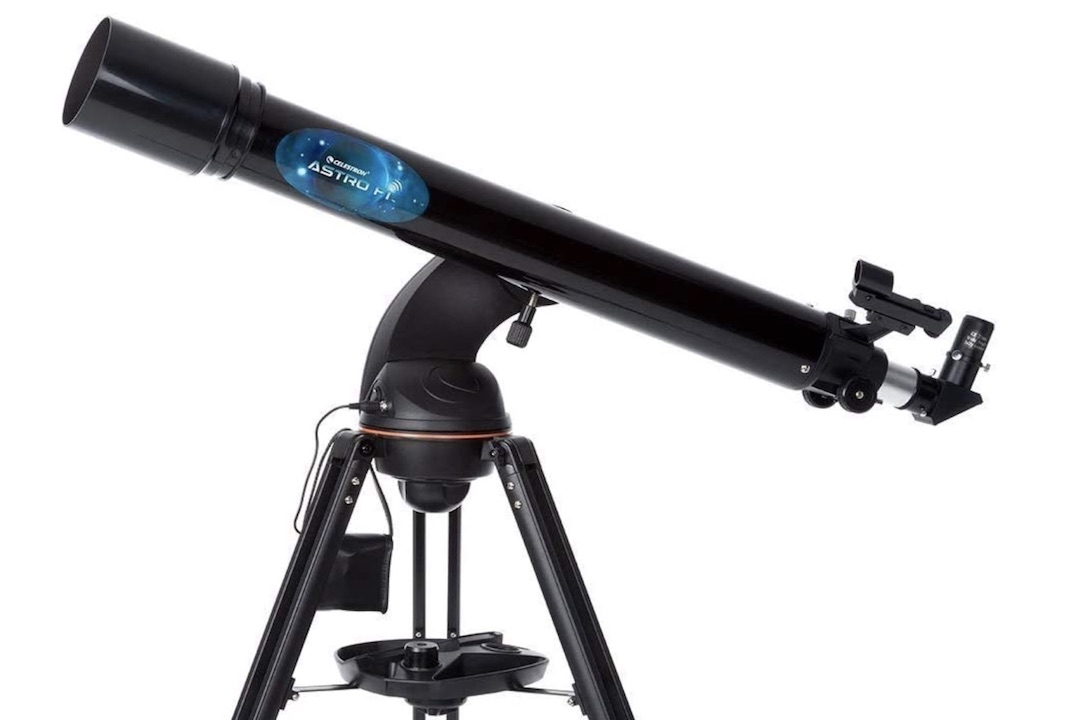 While young skywatchers will enjoy using the Celestron Astro Fi 90, this refractor is a great first instrument for teenagers and observers who are looking for a step up from the tabletop designs. With this, astronomers can enjoy the latest in telescope technology as well as a decent-sized aperture of 3.54 inches (90 mm). 
With the Astro Fi series, Celestron ensures that the skywatcher is observing in no time at all, offering a quick and simple setup that requires no tools to build. What's more, it's an all-inclusive package, coming with everything that's needed for a successful night under the stars — along with the tripod and computerized alt-azimuth mount, two eyepieces (10 mm and 25 mm), a StarPointer red dot finderscope, 1.25-inch star diagonal, battery pouch, integrated smartphone adapter for basic astrophotography, accessory tray and Celestron's Starry Night Special Edition software are also supplied.
The Astro Fi 90 features aux ports on the mount, allowing skywatchers to make use of an optional NexStar+ hand control for slewing to chosen targets at the touch of a button. Astronomers interested in this telescope should be aware that the handset isn't included within the price.
If you would rather not invest in add-ons at this stage, this GoTo can be operated using a smartphone: the Astro Fi is supplied with a free download of the Celestron SkyPortal App, which makes use of the mount's WiFi for seamless navigation, calibration and alignment — however, practice makes perfect with this feature: if you feel that the recipient has no patience or is unlikely to persevere with the technology, we recommend choosing a manual telescope.
A solid construction, this telescope is impressive because the refractor has fully coated optics that gives bright, clear views of the planets and the moon. Those observing closely with this lens can see Saturn's rings and even Venus' phases and even get up-close and personal with the moon's craters and lunar mountains.
Good views of the brighter deep-sky objects can be had, too — the Andromeda Galaxy (Messier 31) and Bode's Galaxy (Messier 81) are stunning, with a pleasing amount of detail. A slight degree of color fringing, or chromatic aberration, can be seen around particularly luminous treasures, but this does not spoil the observations.
If it looks like the Celestron Astro Fi 90 is out of stock in the U.K. Try these great alternatives instead: 
---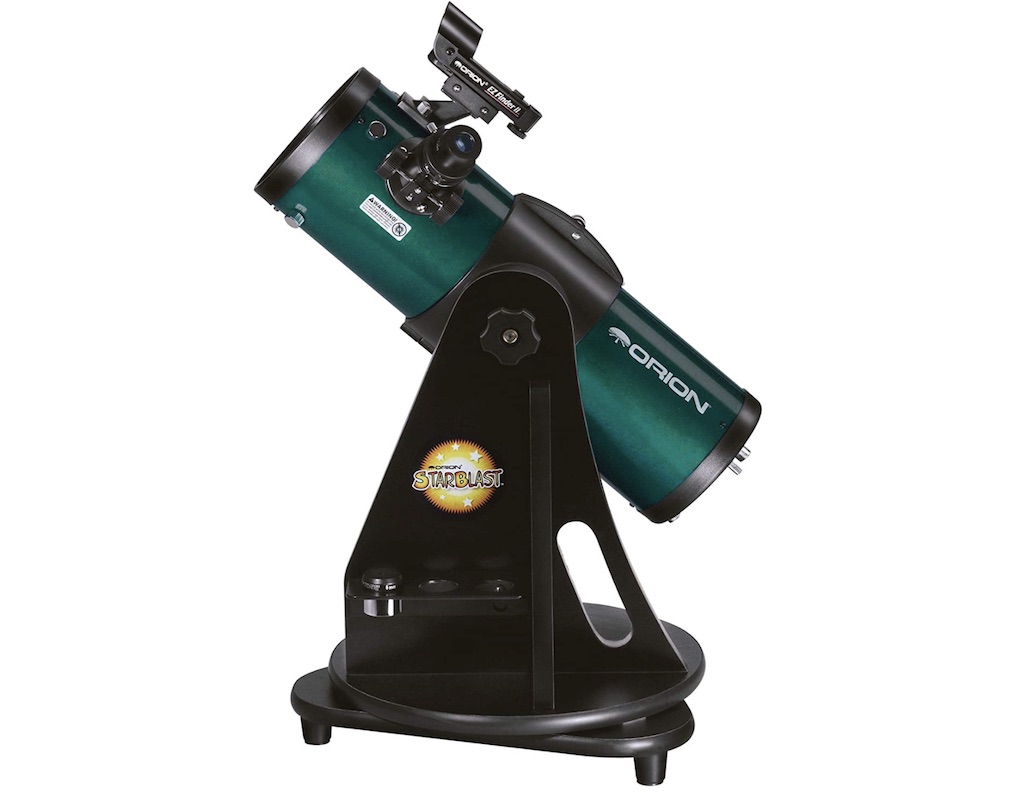 For slightly less than $200, Orion's StarBlast 4.5 Astro Reflector offers a generous aperture of 4.49 inches (114 mm). Similar to the FunScope and FirstScope, Orion's StarBlast 4.5 is ready to go straight out of the box. This suits children who want to get straight to it and may benefit gifters who want their giftees to get going straight away.
The Orion StarBlast 4.5 Astro Reflector is also fully equipped, furnished with Explorer II 6 mm and 17 mm eyepieces, EZ Finder II reflex sight finderscope, collimation cap, eyepiece rack and Starry Night Special Edition software. With the supplied accessories, skywatchers can achieve magnifications of 76x and 26x. 
Yet with useful optical limits of 16x and 228x, the StarBlast 4.5 is an excellent piece of kit for nurturing a young skywatcher's interest in the night sky, while sating the observing appetite of the entire family. A comprehensive manual is included, however we feel that kids will find using this small telescope intuitive enough without it.
Weighing in at 13 lbs. (5.90 kilograms), younger users will need help carrying this reflector to an observing site. But once there, the StarBlast 4.5 is as simple to use as any other tabletop telescope. The battery-operated red dot finderscope makes star-hopping a breeze, while the optical tube assembly can be pushed with ease to the skywatcher's desired target. We detected no stiffness in slewing from left to right or up and down, while the mount supported the tube adequately.
With the supplied eyepieces, the entirety of the moon's disk fills the field of view. While it's not possible to get incredibly close to the craters, mare, rilles or lunar mountains using the included accessories, the Orion StarBlast 4.5 provides excellent contrast and clarity despite its budget price. The parabolic mirror ensures pin-sharp views, while the rack-and-pinion focuser smoothly brought the lunar surface into focus reasonably well for a beginner's instrument.
Views of the planets are fair, and as suspected, quite small due to the field of view, while swathes of rich starfields are a stunning sight under good to moderate seeing conditions. We recommend purchasing a Barlow lens along with a selection of eyepieces to make the most of the telescope's optical system.
---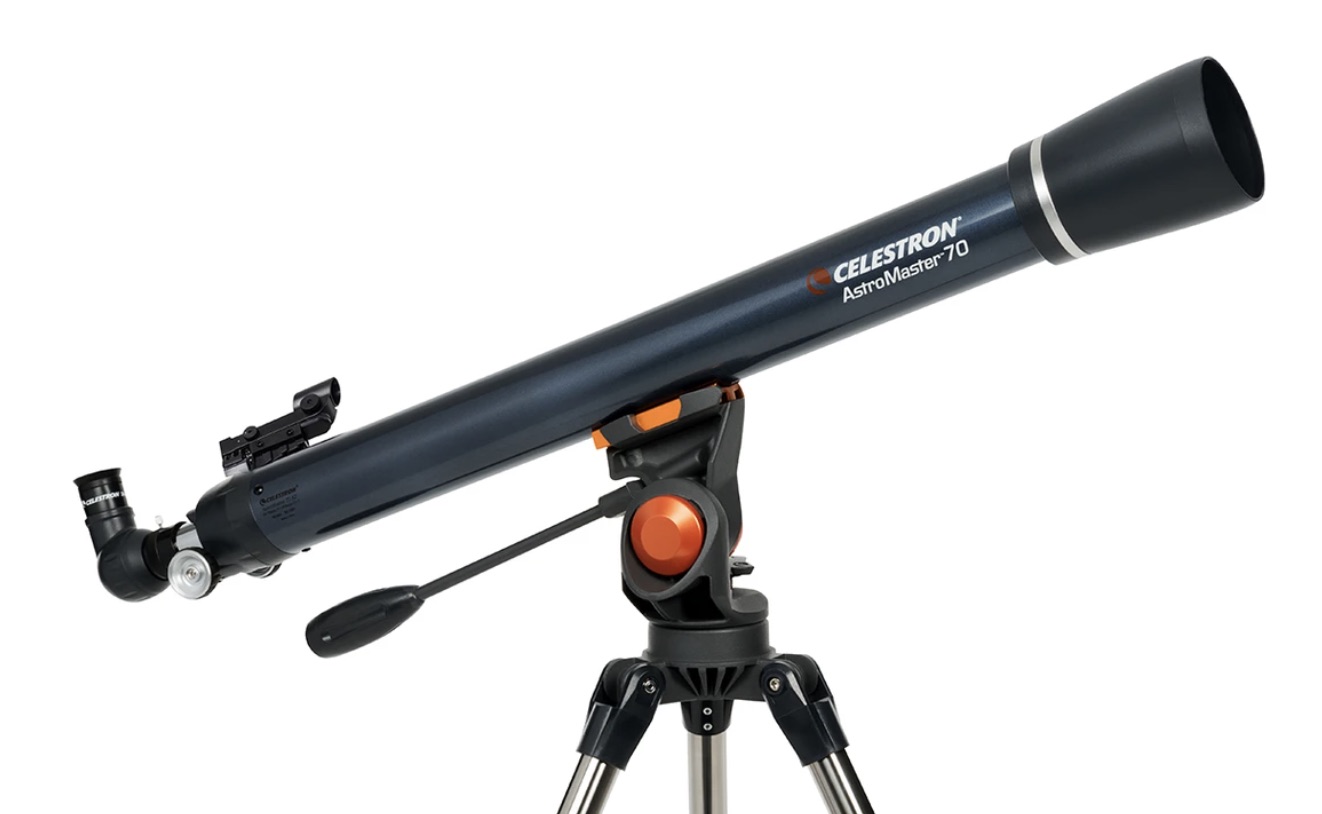 The Celestron AstroMaster 70AZ is a no-frills telescope that makes a good starter instrument for skywatchers aged seven years and up — particularly those who prefer not to stoop down to use a tabletop telescope. Some youngsters will need to be supervised while using the AstroMaster 70AZ.
Like many starter scopes, the AstroMaster 70AZ doesn't require any tools for settiing up and comes with everything the skywatcher needs to kick-start a rewarding hobby, including 10 mm and 20 mm eyepieces, an erect star diagonal as well as a battery-operated red dot finderscope. 
A download of Starry Night Basic software is also included and features a database of 36,000 targets to explore, including printable sky maps, three-dimensional renderings of galaxies, exoplanets and stars. Whichever way skywatching pans out for your young astronomer — whether it's a passing phase or a lifelong passion — this refractor is a great option that doesn't break the bank.
There are more plastic features on the AstroMaster 70AZ than we'd like (the star diagonal feels particularly cheap), but given the low cost and good overall build, the telescope will last for many observation sessions to come — provided it's treated with care. It'll be able to withstand a few knocks, but be wary of giving this instrument to youngsters who are unlikely to respect the delicate optics.
The steel tripod can be adjusted to suit a majority of heights for a comfortable observing experience, while the optical tube assembly provide good magnified views of the solar system, star clusters and bright naked-eye nebulas like the Orion Nebula (Messier 42). 
During our handling of this telescope, we are pleased to find that the alt-azimuth control operates smoothly, with no stiffness. And, when the time came to lock onto a chosen target, the pan handle tightens sufficiently to prevent any sagging of the tube. A feature that ensures young skywatchers can take in the views without the need to continually re-adjust the positioning.
Thanks to the multi-coated optics, we achieved bright, clear views of the moon, Jupiter and Venus. With sufficient fine tuning of the focuser, we were able to bring moon craters, the Jovian moons, a hint of Jupiter's cloud bands and a Venusian phase into clear view. As with many entry-level refractor telescopes there's a certain amount of color fringing, and we noted purple-blue tints appearing around the brightest targets, but it doesn't spoil observation.
Given the telescope's 2.76-inch (70 mm) aperture and useful magnifications of 10x and 165x, the optics can be pushed that touch further without compromising the image quality. We recommend looking to invest in a selection of eyepieces to show your young skywatcher more dazzling sights of the universe.