The United States' first woman to fly into space has lifted off on a new mission, this time to orbit the nation in the form of a new circulating coin.
The U.S. Mint on Monday (March 21) began shipping the Dr. Sally Ride quarter, the second coin in its American Women Quarters program. Struck at the Mint's facilities in Philadelphia and Denver, the 25-cent pieces — each displaying an engraving depicting the late astronaut — should begin showing up at banks and in the change tendered at stores over the next three to four weeks.
"Dr. Sally Ride captured the nation's imagination as a symbol of the ability of women to shatter barriers. Heralding her accomplishments via this beautiful quarter provides the Mint with yet another opportunity to connect America through coins," Ventris Gibson, deputy director of the U.S. Mint, said in a statement.
The release marks the second U.S. coin to depict a female astronaut and the first to honor Ride. A physicist and later a leading advocate for science education, Ride joined NASA in 1978 as a member of the first group of astronaut candidates to include women and minorities.
Five years later, she lifted off on space shuttle Challenger as an STS-7 mission specialist and entered history books as the first American and third woman worldwide to orbit Earth. At 32 years old, she was also the youngest American to fly into space, a record she held for 38 years. Together with her second mission in 1984, Ride logged a total of two weeks in space.
Pioneering women in space: A gallery of astronaut firsts
The quarter depicts Ride as she appeared during her first shuttle mission, floating next to a window aboard the space shuttle's flight deck. The pose was inspired by something Ride once said: "But when I wasn't working, I was usually at a window looking down at Earth."
The coin was designed by artist Elana Hagler, a member of the U.S. Mint's Artistic Infusion Program, and was sculpted by Phebe Hemphill. The artwork also includes the inscription "E Pluribus Unum," Latin for "Out of Many, One," which positioned over Earth, next to the United States, represents that Ride was the first American woman in space.
"Sally would be so moved by this great honor," said Tam O'Shaughnessy, Ride's life partner and co-founder and executive director of Sally Ride Science at University of California, San Diego. "This tribute reflects Sally's legacy not only as a trailblazing astronaut but also as a champion of diversity and inclusion in STEM [science, technology, engineering and math] fields."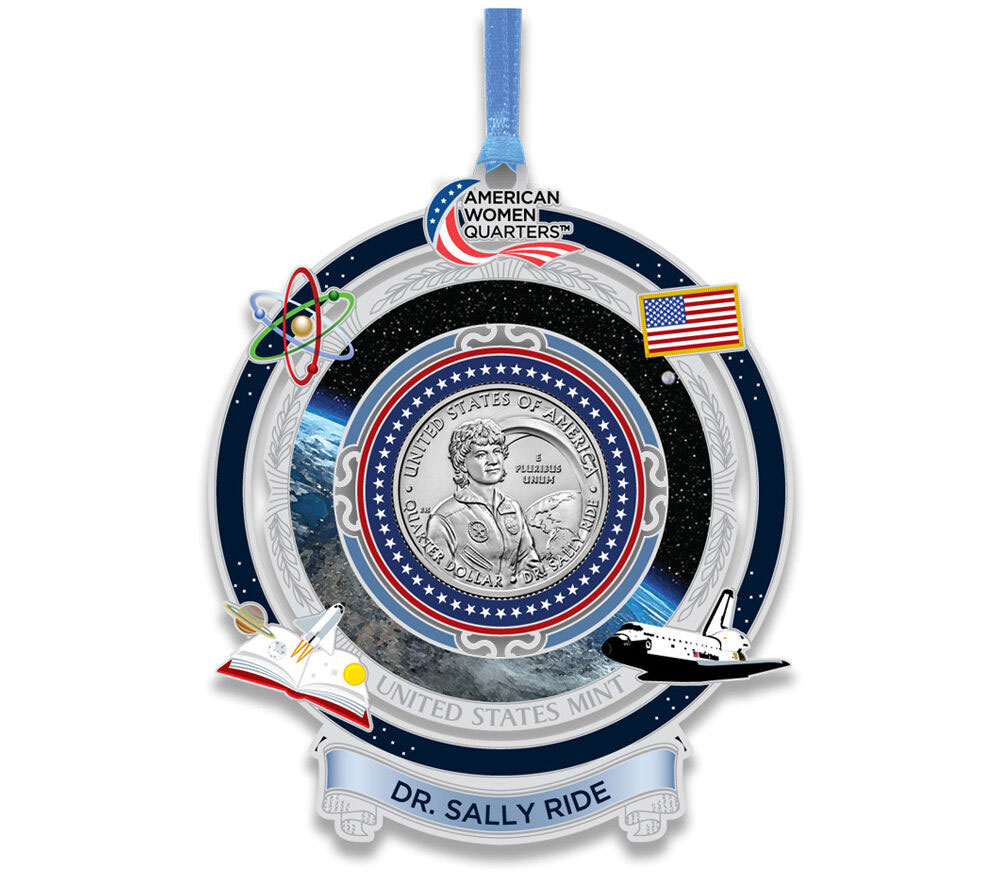 In addition to the coins entering circulation, the U.S. Mint has produced and is offering for sale several numismatic products featuring the Dr. Sally Ride quarter. Advance demand has already claimed the 100 coin-bags and three-roll sets, but two-roll and proof sets, as well as a decorative ornament featuring the Ride quarter, are still expected to be available when they go on sale beginning Tuesday (March 22) through the end of the month and later this fall, respectively.
The U.S. Mint's American Women Quarters program includes five new coins each year through 2025, each featuring designs emblematic of the accomplishments and contributions of trailblazing American women. As authorized by Congress and signed into law in 2021, the coin preceding Ride's depicted poet and social activist Maya Angelou.
The additional honorees in 2022 include Wilma Mankiller, the first female principal chief of the Cherokee Nation; Nina Otero-Warren, a leader in New Mexico's suffrage movement; and Anna May Wong, the first Chinese American film star in Hollywood. Future years' subjects will draw from a wide range of accomplishments and fields, including suffrage, civil rights, abolition, government, humanities, science, space and the arts.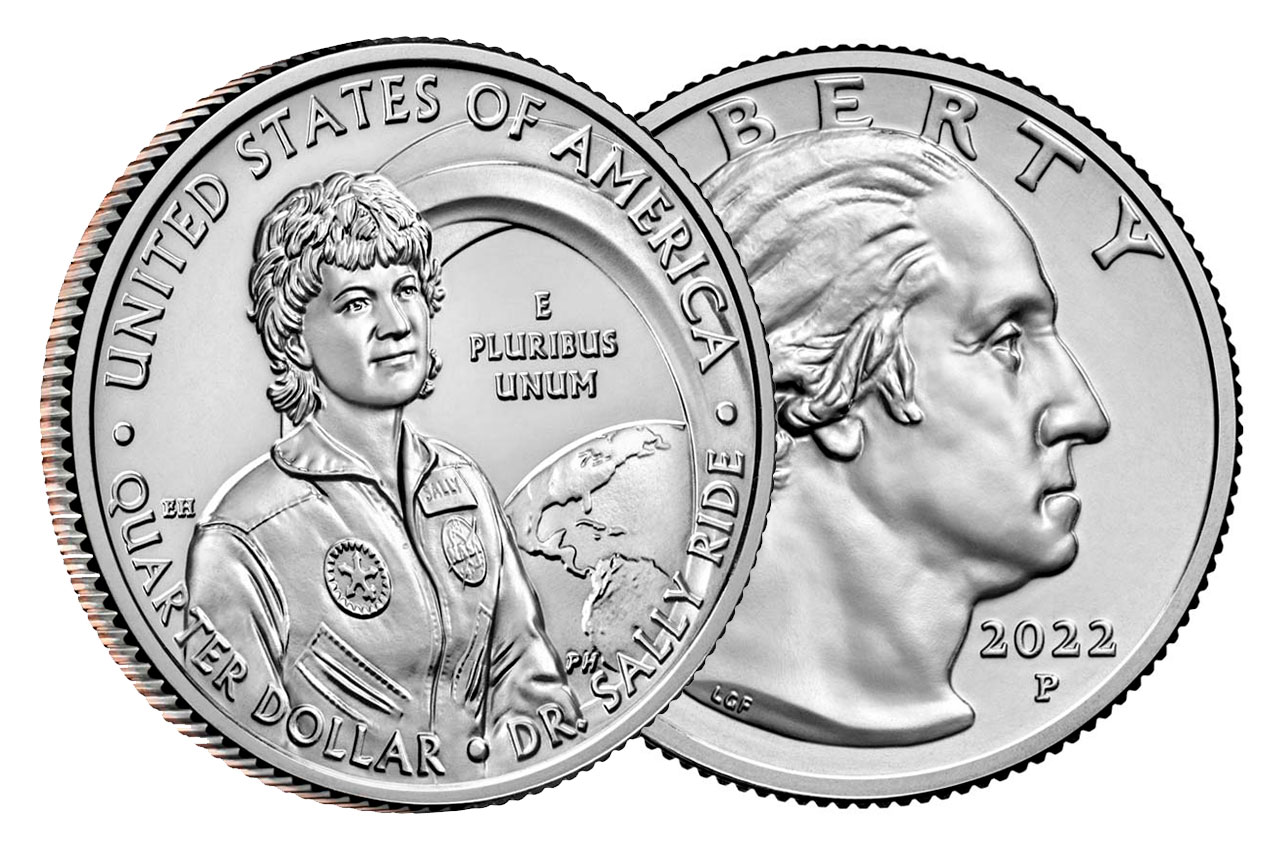 The obverse (or heads side) for all of the American Women quarters depicts a portrait of George Washington originally composed and sculpted by Laura Gardin Fraser to mark George Washington's 200th birthday.
The Sally Ride quarter is the second circulating U.S. coin to depict an astronaut after the 2002 Ohio State Quarter, which featured an engraving of an Apollo moonwalker. 
The U.S. Mint has also issued commemorative coins and medallions depicting John Glenn, the first American in orbit, and the Apollo 11 crew (2009 New Frontier Bronze Medal); a Native American astronaut (2019 American Indians in the Space Program $1 coin); and Christa McAuliffe, the first "Teacher in Space" (2021 silver dollar).
Follow collectSPACE.com on Facebook and on Twitter at @collectSPACE. Copyright 2022 collectSPACE.com. All rights reserved.