For all of the hundreds of Lego Star Wars sets, and all the dozens of Star Wars video games, isn't it a bit weird that there has been so little crossover? There are literally more Lego Star Wars video games than there are Lego sets based off of Star Wars video games. Why this is, is unclear. Games like Knights of the Old Republic, The Force Unleashed and even Battlefront could have been prime fodder for some great Lego sets, even if many of their set pieces could be recreated with other packs.
Could it be just a case of having other projects to focus on, such as the films or the TV shows? Or is creating items for these properties more complicated because of the licensing rights of the video game makers? It's hard to tell, especially as most of the properties are now firmly under the Disney umbrella. 
But finally, a few years after it's release on PlayStation 4, Xbox One and PC, Star Wars Jedi: Fallen Order has received a Lego set, and it's one we really hope is the first of many. 
Essential Info
Average price: $99.99/£89.99
Model number: 75335
Pieces: 1062
Finished item dimensions: 12.5 x 8 x 6 inches
Recommended age: 14+
BD-1, the trusty companion of Cal Kestis in the Jedi: Fallen Order game, and its upcoming sequel Star Wars Jedi: Survivor is the perfect subject for a Lego set. Part clean, bright prequel-era droid design, and part original trilogy-era mechanical grime, the "real" BD-1 looks as if he could have been made of Lego himself. 
Not only does the medium of Lego fit the character perfectly, this design has captured the attitude of the character in game, including his pet dog like head tilts, perfectly. We're very happy with this set, we're just a bit confused as to why Lego haven't opted to include a Cal Kestis minifigure to go along with him. Despite that, BD-1 is easily one of the best Lego Star Wars sets of recent years.
Lego Star Wars BD-1: Build
Fast and easy build.
Lots of Technic pieces.
BD-1 is a fast build, with not too many bags making up the droid. It's basically broken up into two sections, his massive head, which features a secret compartment for Cal's health packs, and his legs, each of which can animate separately. 
The legs are a mix of Technic pieces and smooth plates, which is a great choice for a droid build. Where an uncovered Technic may look untidy in a normal set,  it completely fits the mood for BD-1. You'd easily miss the fact that he's made of Lego at a glance. The build is very simple, with thankfully few repeated sections, and can be easily split between two people if you want to build this with someone. 
It is asking a lot but it would have been cool to see an alternate color set for the red tiles, so you could customize your own BD-1 like you can in the game, but even then, that's something that builders can easily mod themselves.  
Lego Star Wars BD-1: Design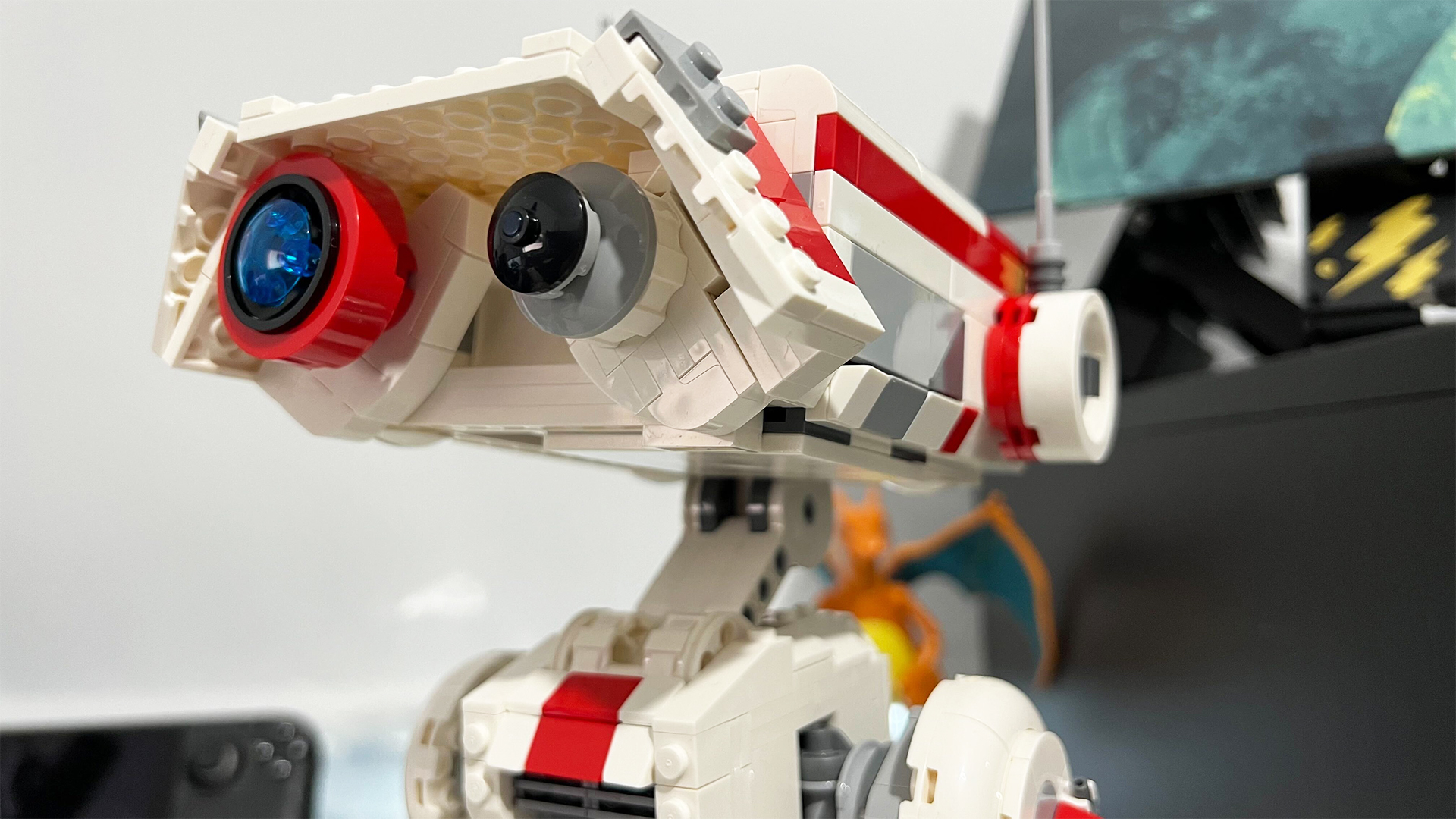 Looks exactly like it does in game.
Very poseable and sturdy.
Lack of Cal Kestis minifigure is a shame.
BD-1, perhaps more than any other Star Wars statue-style model that's been done by Lego at this scale, is an amazing likeness of the real thing. It's also one of the few Lego sets that are actually to scale, as BD-1 will look at home on your shoulder just as he does on Cal Kestis', although careful he doesn't fall off, he's a delicate soul. 
The poseable head feels very sturdy, and not likely to fall apart thanks to some clever joint work inside the head itself. The legs can be a little stiff to pose at first, but after you move them around for a while they become much easier to pose, without losing the ability to stand up properly. BD-1 comes with a small name plate, and a BD-1 minifigure. It looks great on a shelf, and doesn't take up much room at all. 
Honestly, the glaring flaw is the lack of a Cal Kestis minifgure. We understand that this is more of a statue, but it does come with a minifigure scale BD-1, and there's currently no other way to get Cal, which is such a shame. We're hoping that with the upcoming release of Jedi: Survivor, that sets based on that game may include a Cal, but it seems like such a missed opportunity to not include him here, especially if this ends up as a one-and-done theme. We really hope not, especially since Lego has an easy set ready made for them with the Stinger Mantis, Cere Junda and Greez Dritus. 
Should you buy the Lego Star Wars BD-1?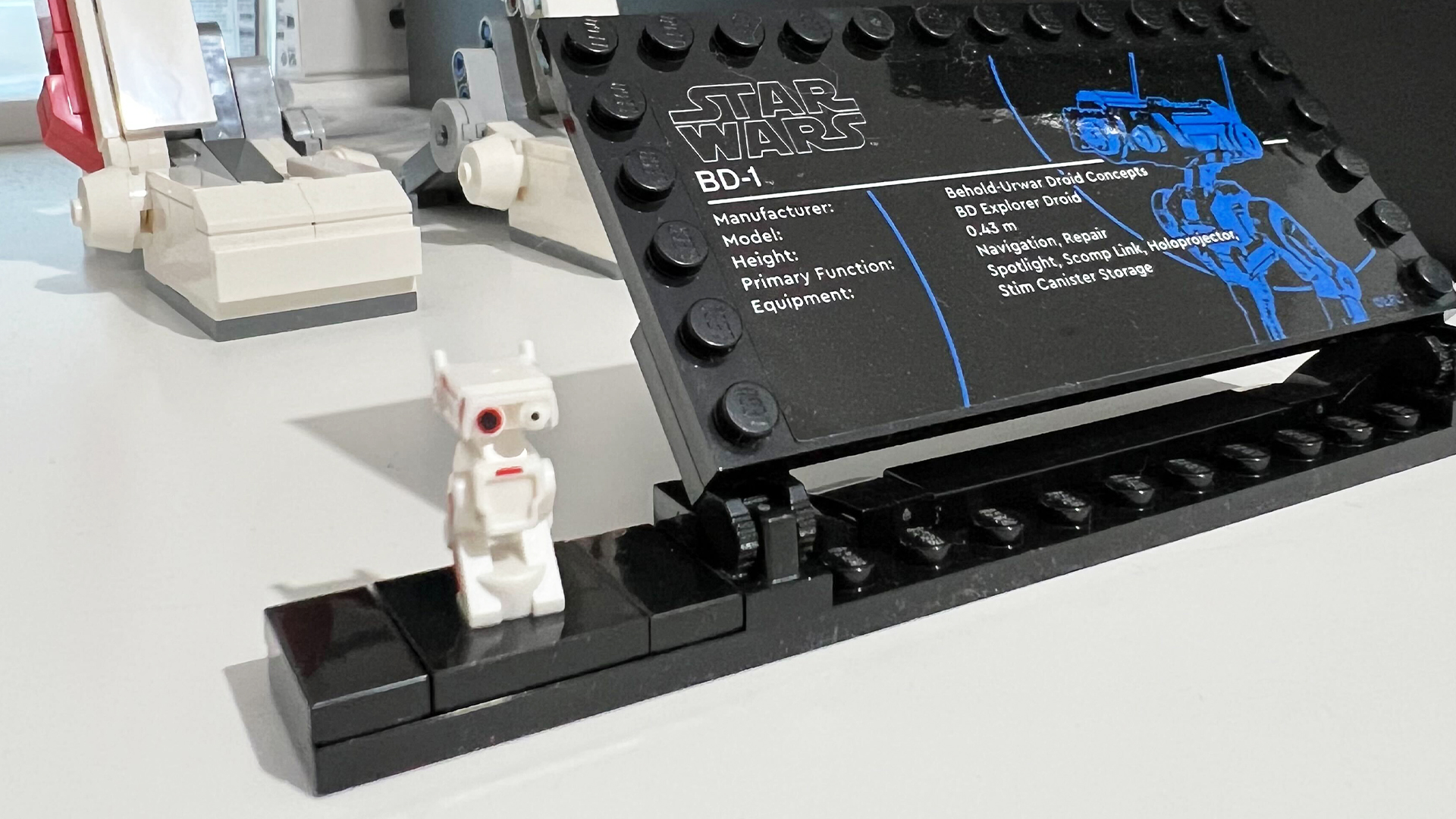 Yes!
BD-1 is a perfect set for fans of Lego Star Wars or fans of Star Wars Jedi: Fallen Order. With the latter only receiving limited merch (unless you're at a Disney park and have a few hundred to drop on a Cal Kestis lightsaber) it's a great piece of memorabilia for one of the best Star Wars games ever.  
It's so close to being the perfect set, with the only real let down being the missing Cal Kestis minifgure, but we're really hopeful that he won't be missing for long, especially as the sequel to the game, Star Wars Jedi: Survivor, lands later this year. It's the perfect set if you have limited shelf real estate and want to show off your Star Wars love. If we get more sets, we'd love a Lego version of Cal's lightsaber, similar to the limited-run of gift-with-purchase lightsaber hilts that were released a few years ago. Anything to finally get a minifigure of the only ginger Jedi. 
What other LEGO Star Wars sets can you buy?
If you're buying BD-1, we imagine you're a Star Wars die-hard, or a huge fan of the games. If this is your 50th Lego Star Wars set or your first, we've plenty to recommend to go alongside BD-1 on the shelf. 
The Lego Mos Eisley Cantina is a set for a serious Star Wars fan and one of our favorite Lego sets ever made. Already very heavily sought after, it's only going to get harder to find in years to come, and we understand why. It's absolutely massive, and it's one of the most enjoyable builds in the line. You can check out our review here.
The absolute gold standard of Star Wars Lego is still the UCS Millennium Falcon, that we will simply never shut up about for the rest of time. It costs tons, even more now that it's in the very early stages of retirement, but it's the iconic Lego Star Wars set for us. 
If you're a big Mandalorian fan, we recommend the Lego Star Wars AT-ST Raider as great way to pickup something from the series without breaking the bank. 
There are also smaller sets that come with The Mandalorian figure, such as the The Armorer's Mandalorian Forge (opens in new tab), however the displayability of this set is lacking compared to the AT-ST. There's also the UCS Razorcrest (opens in new tab), which similar to the UCS Millennium Falcon will take up most of your house and potential require you to remortgage said house to afford it. Still though, it looks so cool.