A new set of limited edition watches marks the first time that U.S. astronauts and Russian cosmonauts traveled together to Space … Mountain.
Hong Kong-based watch brand UNDONE has launched for sale three timepieces (opens in new tab) that commemorate the visit by the first American and Russian joint space crew to Magic Kingdom, ahead of their historic mission.
"UNDONE introduces a limited edition box set of time instruments for the wannabe space legend inside all of us. The UNDONE Disney Space Legend box set (opens in new tab) celebrates an iconic Disney World moment in 1975 where Mickey Mouse greeted both astronauts and cosmonauts en route to tour the Kennedy Space Center in Florida," the company announced on Wednesday (Jan. 4).
Related: The Apollo-Soyuz Test Project mission in photos
Five months before they met in orbit, the five members of the Apollo-Soyuz Test Project (ASTP) rendezvoused at the Disney theme park, where they rode Space Mountain and the Star Jets, among other attractions. The Feb. 9, 1975 visit by astronauts Thomas Stafford, Vance Brand and Deke Slayton, cosmonauts Alexei Leonov (opens in new tab) and Valery Kubasov, and a delegation of space program representatives was a chance for both relaxation and publicity, before the Russians headed off for their final training session in Houston.
Leonov jokingly described Space Mountain as "a real nice integrated simulator" for the ASTP mission, according to a report from The New York Times (opens in new tab).
Limited to just 100 units, the $1,499 UNDONE Disney Space Legend set devotes a timepiece to each "side" of the mission.
The "Apollo" wristwatch features a "retro-futuristic" design powered by a Japanese automatic movement and topped with an ultra-dome K1 lens to bring the brand's signature galaxy lume dial into full view.
A more technical approach is taken with the "Soyuz," a three-dial chronograph with a carbon-fiber bezel, galaxy lume dial and a "mission ready" nato style strap.
Both watches have a small Mickey Mouse-shaped planet and "Space Legend" logotype on their face. An illustration of Astronaut Mickey — clad in a red striped spacesuit similar to the type worn by the character who greeted the ASTP crew — is featured on the partially transparent case back. The reverse of both timepieces also includes the inscription, "Adventure and exploration."
Completing the trio is a "mission timer" clock, a desktop model that "can stay in the cockpit or mission control center." The timer's face is styled to complement the watches.
All three timepieces come in a waterproof and shockproof case with an exclusive set of collectible stickers depicting Mickey Mouse, Donald Duck, Goofy, Pluto and Chip and Dale in full spacesuit gear.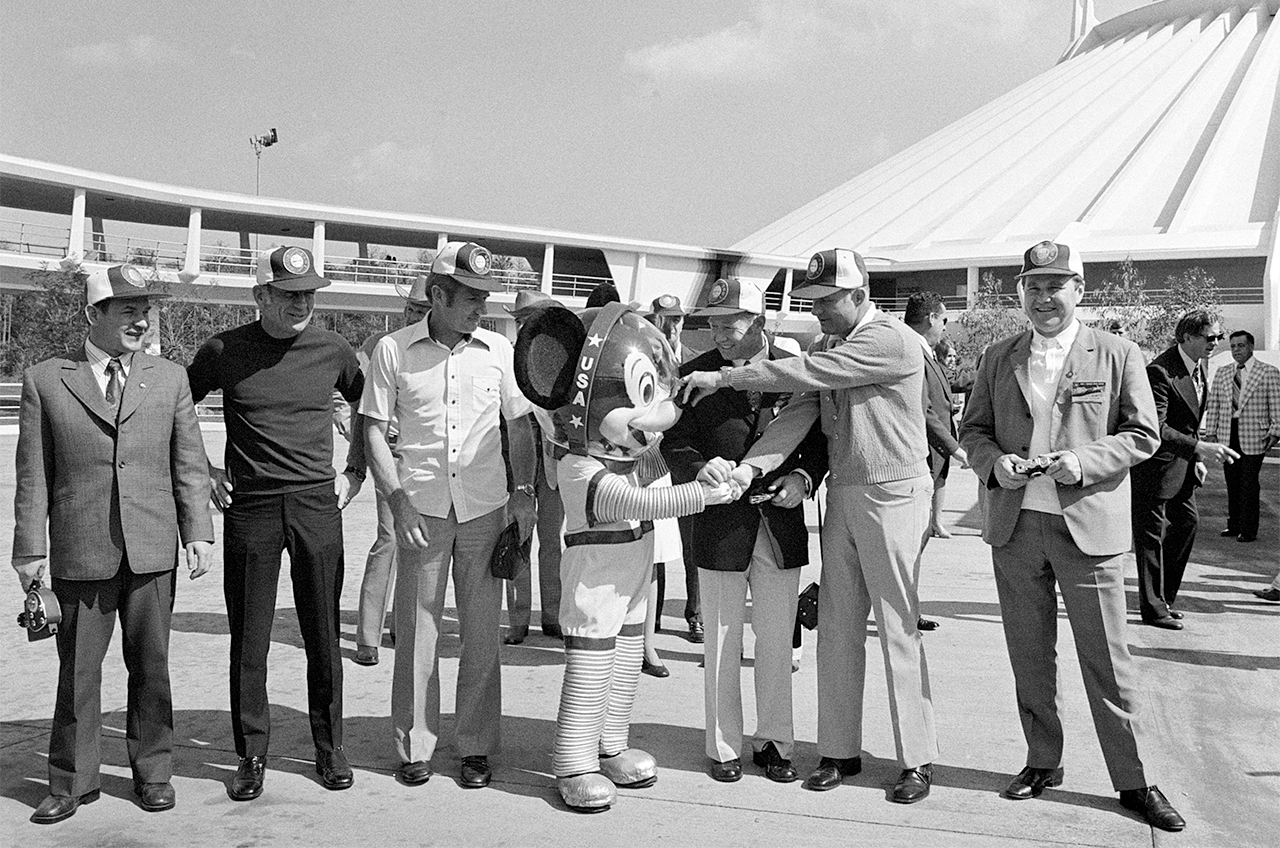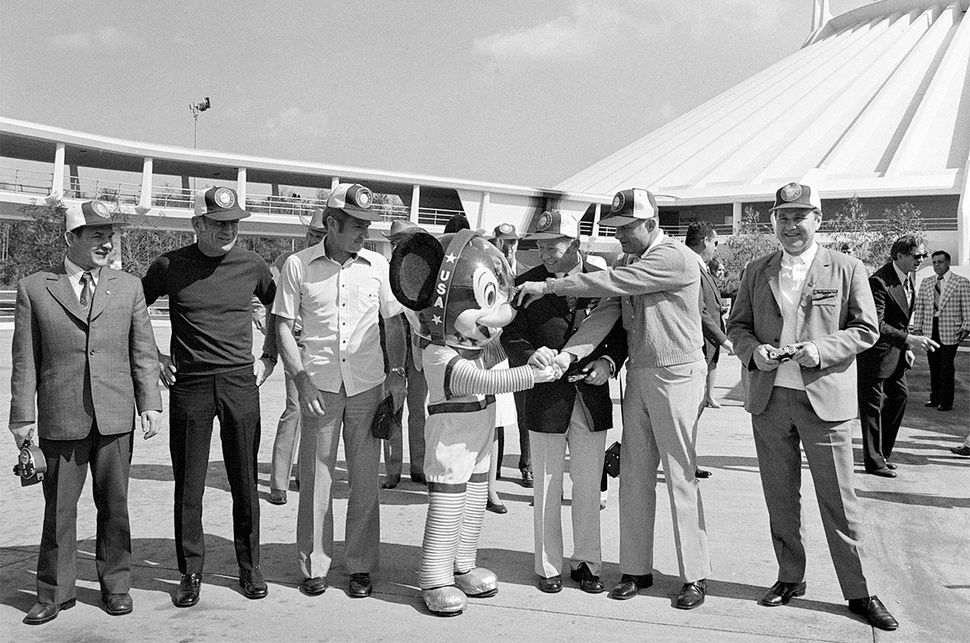 The ASTP mission saw the U.S. and Russia launch separate spacecraft on July 15, 1975. Two days later, the Apollo command module (opens in new tab) and Soyuz capsule met in Earth orbit, where they remained docked for joint crew operations for 47 hours. The mission set the stage for the later cooperation between the two countries on the assembly and operation of the International Space Station, which continues today after 22 years.
The astronauts and cosmonauts' visit to the Magic Kingdom was the second time that real-life space travelers made an appearance at the Disney park (opens in new tab) in 1975. A month earlier, original Mercury astronauts Scott Carpenter and Gordon Cooper, together with Apollo moonwalker Jim Irwin, took part in the opening ceremony for Space Mountain, which opened to the public on Jan. 15, 1975.
Follow collectSPACE.com (opens in new tab) on Facebook (opens in new tab) and on Twitter at @collectSPACE (opens in new tab). Copyright 2023 collectSPACE.com. All rights reserved.