Image 1 of 22
First woman in space: Valentina Tereshkova
The first woman in space, Valentina Tereshkova, blazed a trail for the many female spaceflyers who would follow. Tereshkova, a Soviet cosmonaut, was selected from more than 400 applicants to launch on the Vostok 6 mission June 16, 1963. She was 26 at the time. 
Born in the village of Maslennikovo northeast of Moscow, Tereshkova volunteered for the Soviet cosmonaut program after Yuri Gagarin made history as the first man to fly in space on April 12, 1961. She was not a pilot, but had extensive parachuting experience, with 126 jumps under her belt. (Gagarin parachuted to Earth, ejecting from the Vostok capsule during descent as part of the landing sequence.)
Infographic: How Valentina Tereshkova's 1963 Vostok 6 flight worked
Tereshkova was one of four women who received 18 months of training for Vostok 6, and was ultimately selected to pilot the flight. The mission launched from Baikonur Cosmodrome two days after Vostok 5, piloted by cosmonaut Valeriy Bykovsky, with the two spacecraft's coming within 3 miles (5 kilometers) of each other. 
Tereshkova spent 70 hours in space and orbited Earth 48 times during her mission. Though an icon of Soviet space exploration, she never flew in space again and became a test pilot and instructor.
Image 2 of 22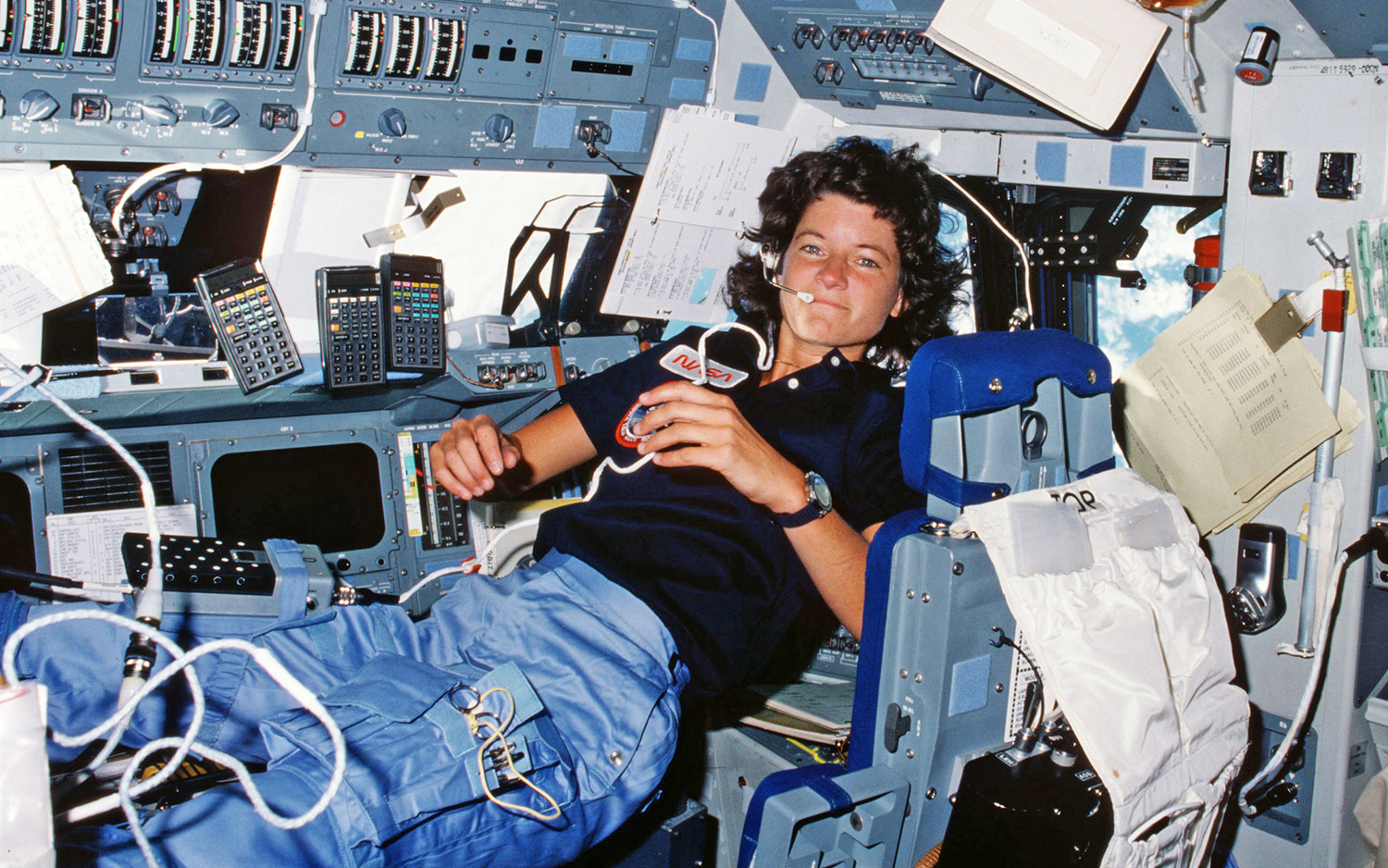 First American woman in space: Sally Ride
On June 18, 1983, NASA astronaut Sally Ride became the first U.S. woman in space when she launched on the STS-7 mission of the space shuttle Challenger. She was the third woman in space, after Valentina Tereshkova and Soviet cosmonaut Svetlana Savitskaya, who flew on the Soyuz T-7 mission on Aug. 19, 1982.
Born in Encino, California, Ride studied physics and English at Stanford University, ultimately earning a Ph.D. physics in 1973. She joined NASA's astronaut corps in 1978 as one of the first six female astronauts to join the U.S. space agency. 
More: Sally Ride: First American Woman in Space (Pictures)
Ride was 32 when the STS-7 mission launched into space. The mission was NASA's seventh shuttle flight and marked the first time a woman controlled a space shuttle robotic arm. STS-7's main mission was deploy communications satellites for Canada and Indonesia. Challenger returned to Earth with Ride and her STS-7 crewmates on June 24, wrapping up a six-day flight. 
Ride would make history again in 1984 when she launched on the Challenger's STS-41G mission, beginning the first American woman to fly in space twice. 
In 2012, Ride died from cancer at age 61.
Image 3 of 22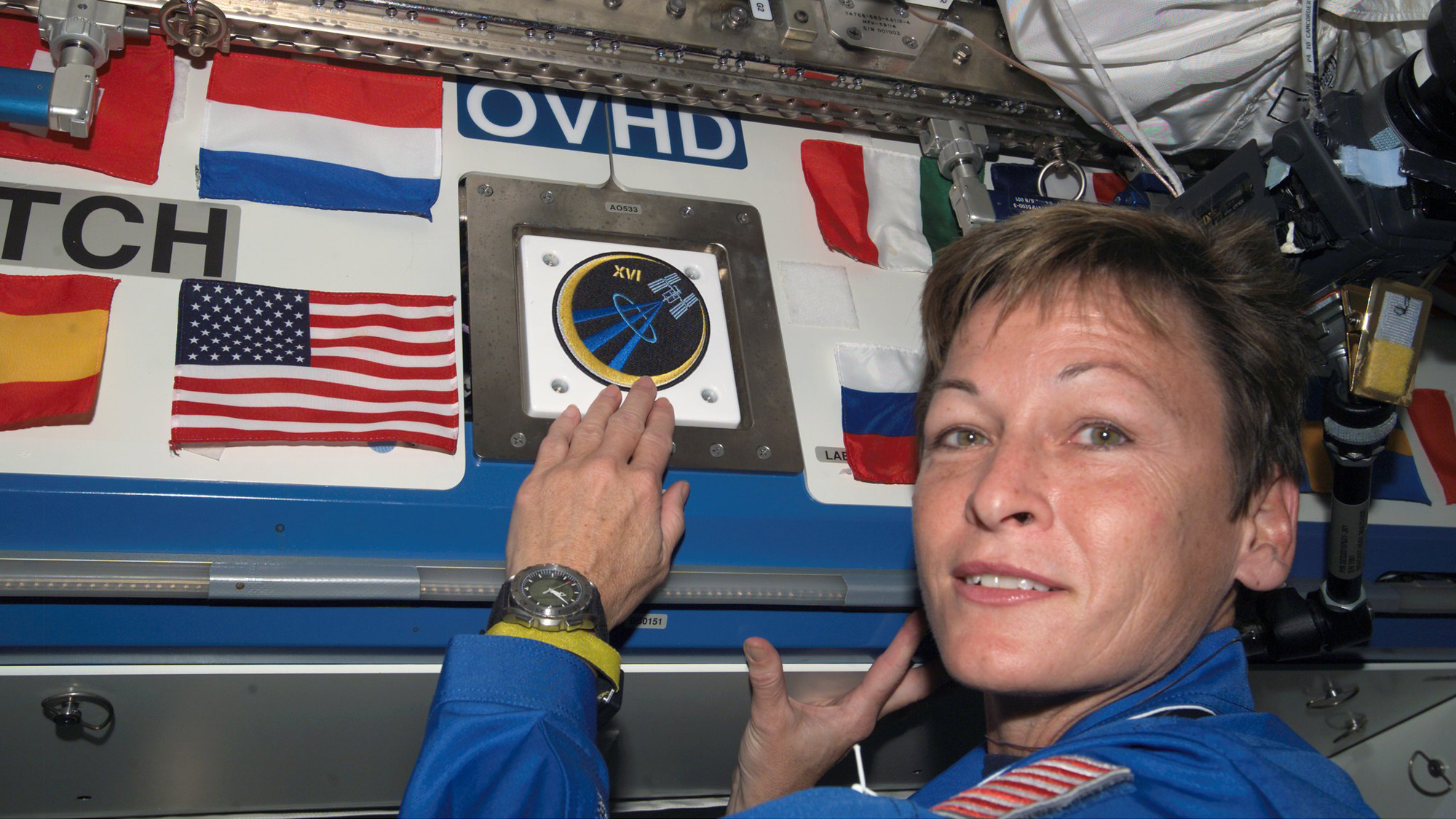 First female space station commander: Peggy Whitson
NASA astronaut Peggy Whitson became the first woman to command the International Space Station when she took the helm of the outpost in April 2008 during Expedition 16.
It was science that led to Whitson's space career. A native of Mount Ayr, Iowa, Whitson grew up as a chicken farmer and earned a Ph.D in biochemistry from Rice University in 1985, after which she began working as a biochemist at NASA as a National Research Council Resident Research Associate. She officially joined NASA's Johnson Space Center as a biochemist in 1989 and served as the project scienctist for the Shuttle-Mir program in 1992. 
In photos: Record-breaking NASA astronaut Peggy Whitson
In 1996, Whitson was selected to become a NASA astronaut and first launched to the International Space Station as part of the Expedition 5 crew in 2002. She spent 185 days in space on that flight, and also served as NASA's first official Science Officer on the station.
Then came Expedition 16, when Whitson took her historic command of the space station. During the 192-day flight, Whitson welcomed a NASA shuttle mission commanded by another woman, Pamela Melroy, and racked up her career fifth spacewalk. 
On her next spaceflight in 2016, she became the first woman to command the space station twice when she took command of Expedition 51. She holds the record for being the oldest woman in space, having returned from her final mission at the age of 57. 
Whitson retired from NASA in June 2018. She has spent a total of 665 days in space.
Image 4 of 22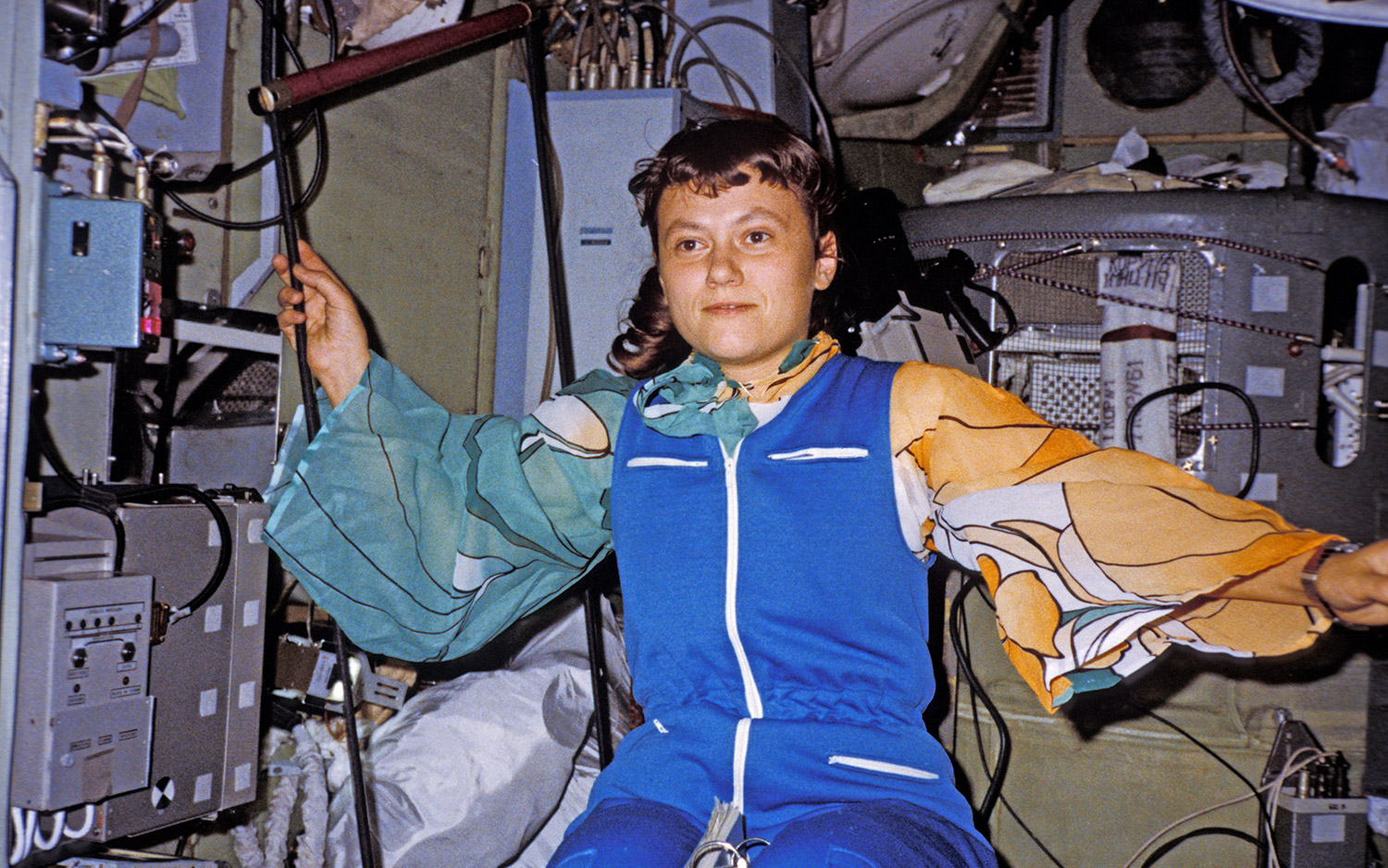 First female spacewalker: Svetlana Savitskaya
The first woman to complete a spacewalk, or extravehicular activity (EVA), was Soviet cosmonaut Svetlana Savitskaya. 
Savitskaya became the second woman to fly in space in August 1982 – 19 years after Valentina Tereshkova's flight – when she served as a research cosmonaut on the space station Salyut 7. She launched on a Soyuz T-7 spacecraft on Aug. 19 , 1982 and spent returned to Earth eight days later. 
But it was during Savitskaya's second trip to Salyut 7 in 1984 that she made history as the first woman to walk in space. She was also the first woman ever to fly in space a second time.
Savitskaya launched with two crewmates aboard Soyuz T-12 on July 17, 184 and spent 12 days on Salyut 7. Her spacewalk occurred on July 24, when she and crewmate Vladimir Dzhanibekov spent more than three hours spacewalking and performing welding experiments in orbit. 
Born in Moscow, Savitskaya was determined to fly at a young age. She began parachuting at age 16 and joined the Soviet Aerobatics Team at age 18 to perform daredevil stunts and performances in aircraft, according to the UK Space Agency. She was selected to join the Soviet cosmonaut corps in 1980 and holds a master's degree in flight engineering.
Image 5 of 22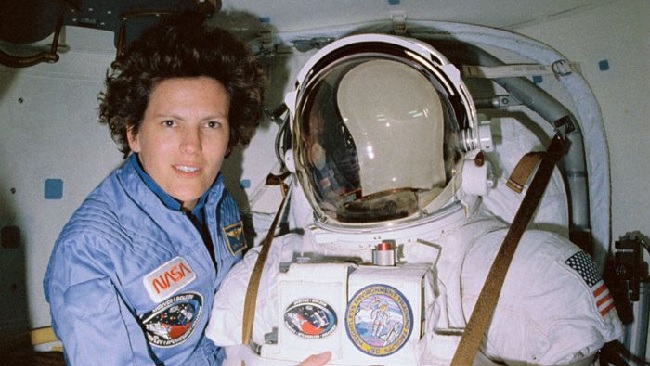 First U.S. female spacewalker: Kathy Sullivan
NASA astronaut Kathryn D. Sullivan became the first American woman to perform a spacewalk when she floated outside the space shuttle Challenger during mission STS-41-G on Oct. 11, 1984.
Sullivan's spacewalk occurred just months after the first-ever spacewalk by a woman (cosmonaut Svetlana Savitskaya's excursion in July of that year) during Challenger's nine-day mission to deploy an Earth observation satellite (the Earth Radiation Budget Satellite) and demonstrate satellite refueling technology. 
Sullivan holds a Ph.D in geology and joined NASA's eight class of astronauts in 1978, training for spaceflight for six years while awaiting her first assignment. That assignment was the STS-41-G mission, when she became the first American woman to walk in space. 
In April 1990, Sullivan returned to space on the shuttle Discovery, this time to help deploy the Hubble Space Telescope. In 1993, Sullivan left NASA to serve as chief scientist for NOAA and ultimately became NOAA's Administrator in 2014.
Image 6 of 22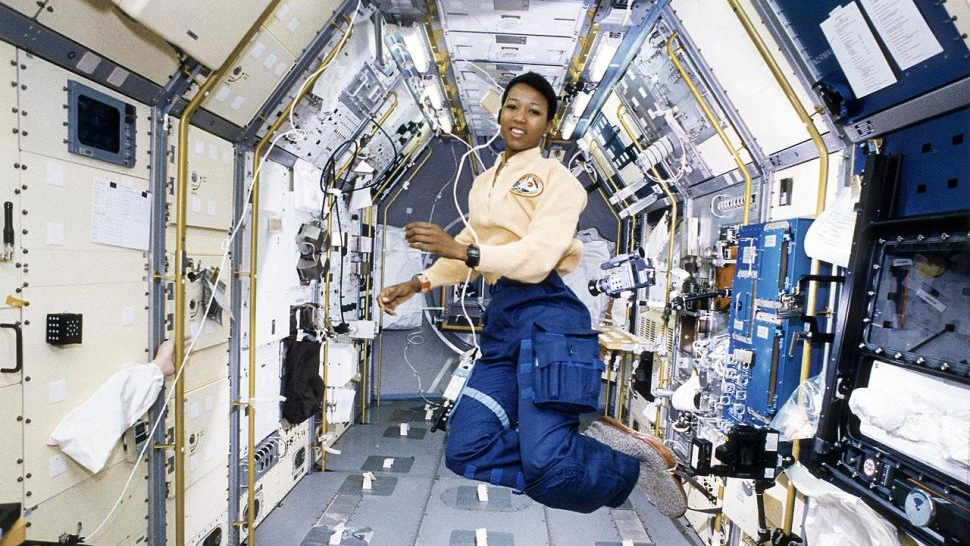 First African American woman in space: Mae Jemison
NASA astronaut Mae Jemison flew on space shuttle Endeavour in September 1992, becoming the first African-American woman to travel to space.
Born in Decatur, Alabama, Jemison grew up in Chicago and earned degrees in chemical engineering and African and African-American studies at Stanford University, as well as doctorate in medicine from Cornell University. After working as a doctor for several years and serving term in the Peace Corps, Jemison joined NASA as an astronaut in 1987. 
Jemison launched into space on Endeavour on Sept. 12, 1992 as part of the seven-person STS-47 crew. She served as a mission specialist, performing experiments in two bone cell research experiments among other tasks. Endeavour carried a Spacelab module in its payload bay to allow room for more than 43 different studies during the mission. 
Jemison spent just over 190 hours in space during the STS-47 mission and left NASA in March 1993. 
Image 7 of 22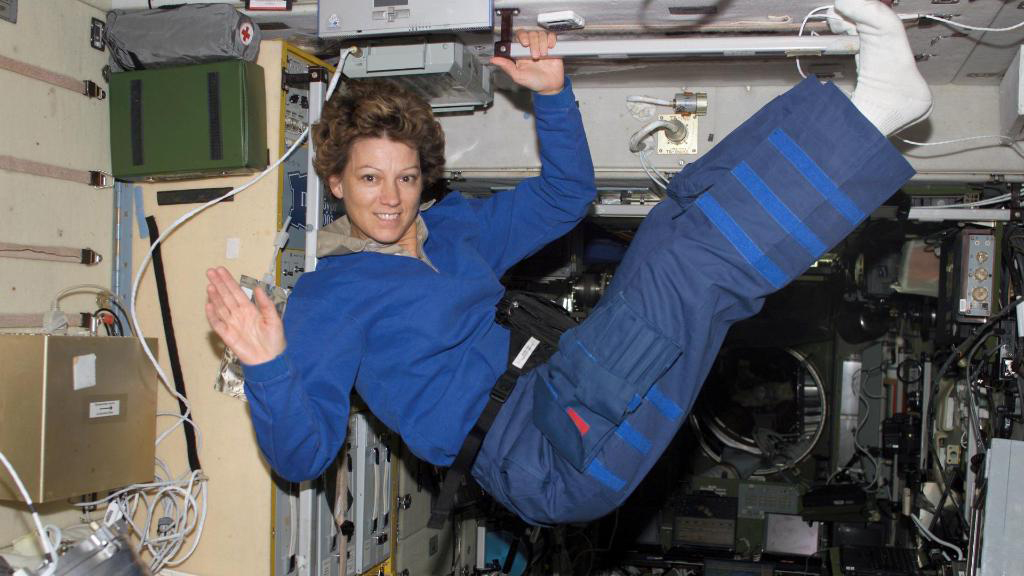 First female space shuttle commander: Eileen Collins
NASA astronaut Eileen Collins was the first woman to command a space shuttle mission, a role that required an astronaut to have at least 1,000 hours of experience piloting jet aircraft. Collins commanded the STS-93 space shuttle mission in July 1999, and went on to command a second time in July 2005.
Image 8 of 22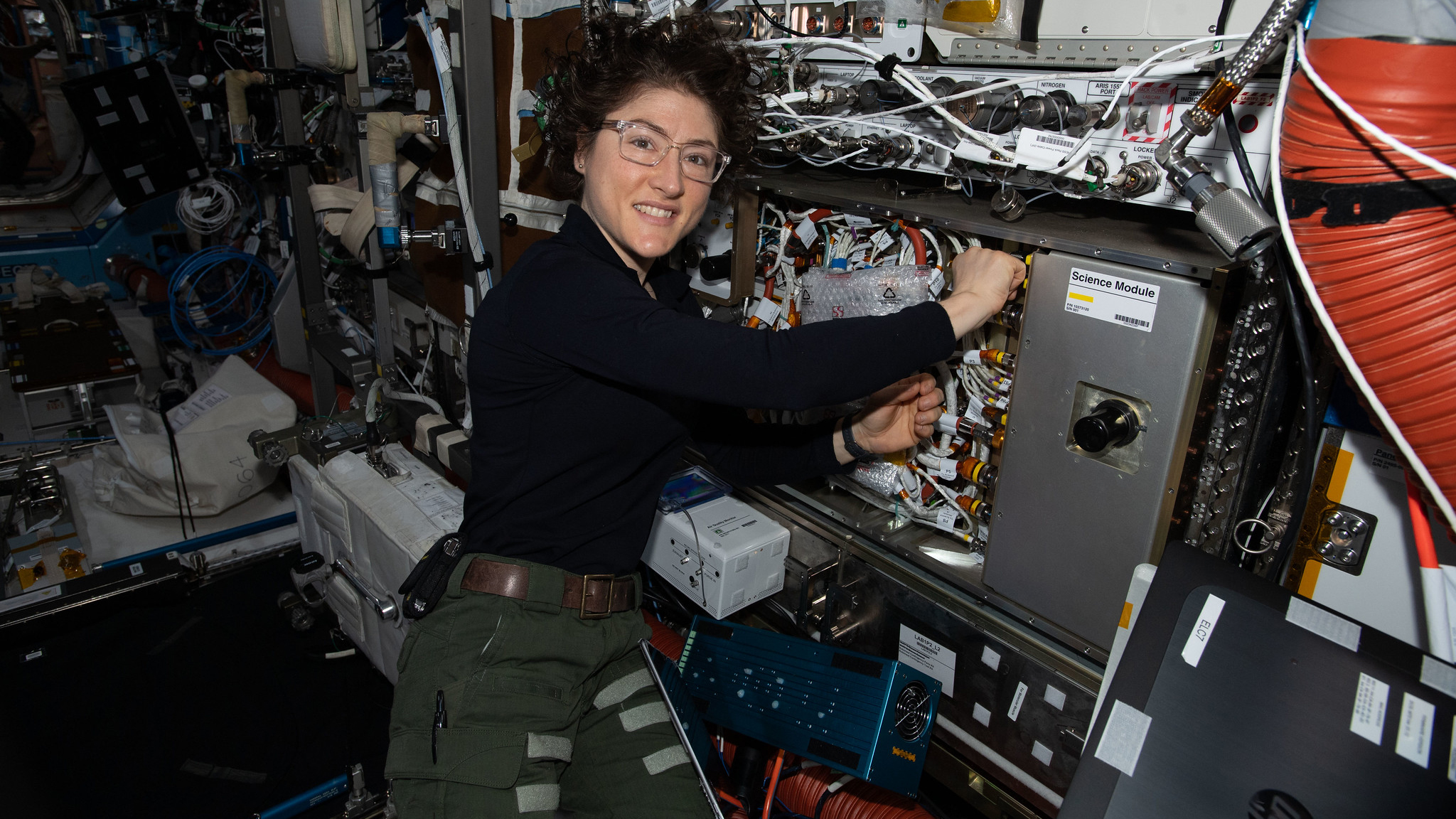 First woman to spend (nearly) 1 year in space: Christina Koch
In April 2019, NASA announced that Expedition 59 astronaut Christina Koch's mission at the International Space Station would be extended to last 328 days. She broke the record for the longest single spaceflight by a woman — a record that was previously held by NASA astronaut Peggy Whitson, who spent 289 consecutive days in space from 2016 to 2017. Koch launched to the space station on March 14, 2019 and returned to Earth on Feb. 6, 2020.  
Image 9 of 22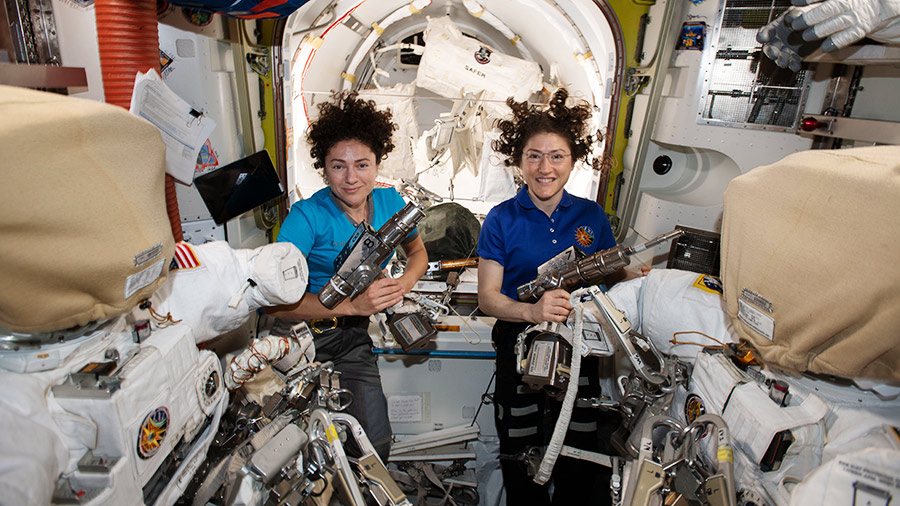 First all-female spacewalk
On Oct. 18, 2019, two NASA astronauts made space history with the world's first all-female spacewalk. NASA astronauts Christina Koch (left) and Jessica Meir test their spacesuits for their historic Oct. 18, 2019 spacewalk.
NASA astronauts Christina Koch and Jessica Meir went outside the International Space Station on an unplanned repair spacewalk to fix a fault battery component. Koch, a spacewalk veteran, led the EVA while Meir performed her first spacewalk. 
Koch and Meir were part of the Expedition 61 crew, with Koch also flying the first nearly yearlong space mission by a woman. Koch set a new record for the longest single spaceflight, having spent 328 consecutive days on board the orbiting laboratory. (The previous record holder was Peggy Whitson, who spent 289 consecutive days in space.)
Image 10 of 22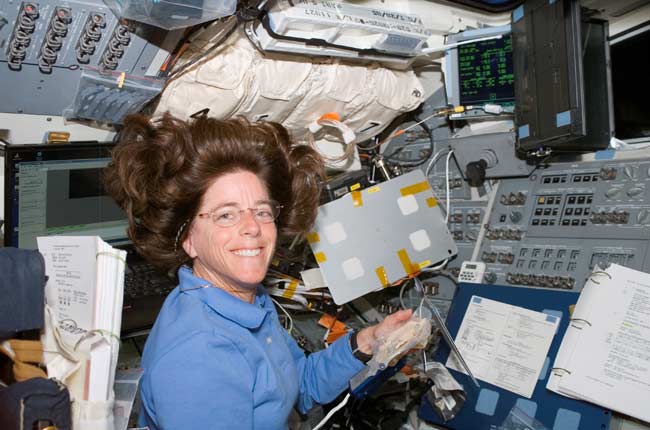 First teacher in space: Barbara Morgan
NASA's original plan to send the first teacher to space was thwarted when Christa McAuliffe and her six crewmates were killed aboard the space shuttle Challenger, which was destroyed just after liftoff on Jan. 28, 1986. Twelve years later, McAuliffe's backup Barbara Morgan became the first educator to reach orbit under NASA's Teacher in Space program, when she flew on the STS-118 flight of the shuttle Endeavour in August 2007. She spent a total of 12 days in space during her first and only spaceflight. Before she joined NASA in 1998, Morgan taught math, science and reading classes to elementary school students in Montana, Idaho and Ecuador for 24 years. She retired from NASA in 2008 to continue teaching at Boise State University. 
Image 11 of 22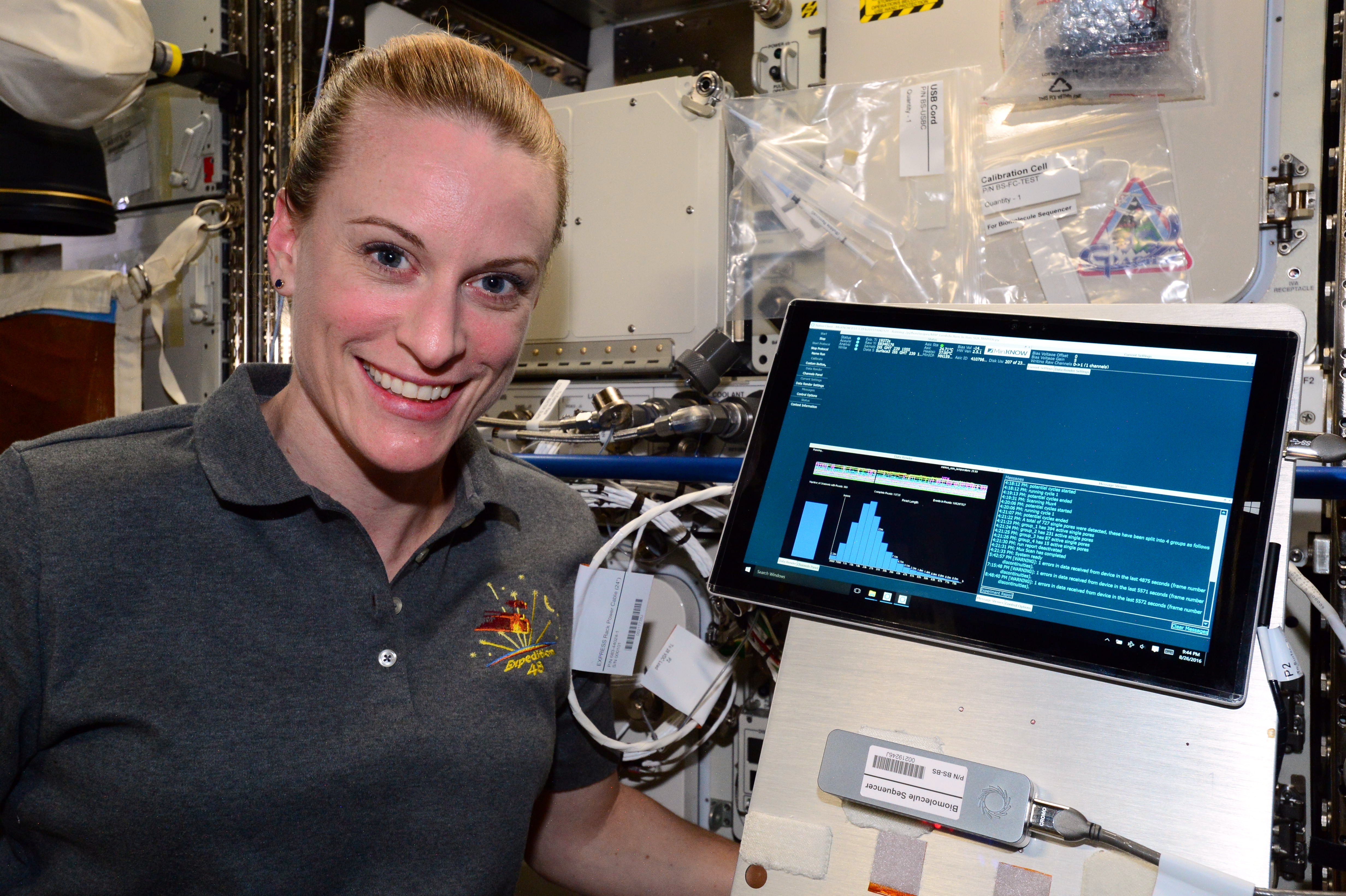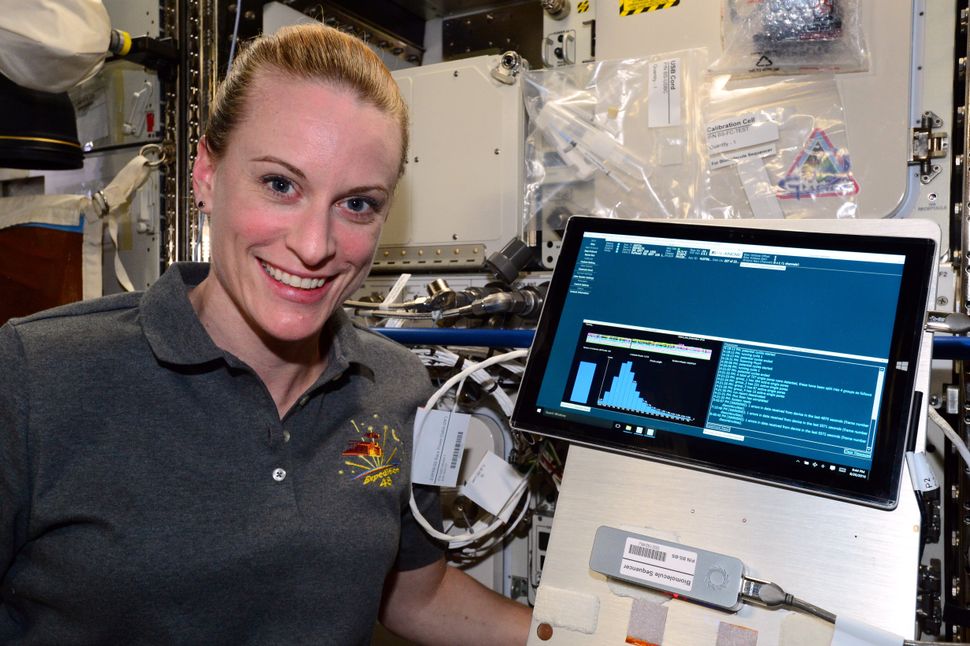 First to sequence DNA in space: Kate Rubins
NASA astronaut and microbiologist Kate Rubins became the first researcher to sequence DNA in space during her first mission to the International Space Station in 2016, when she spent 115 days working as a flight engineer for Expedition 48. Rubins, who holds a doctorate in cancer biology from Stanford University, sequenced DNA samples from a mouse, a virus and bacteria to test a commercially available DNA sequencing device called MinION.
"With a way to sequence DNA in space, astronauts could diagnose an illness, or identify microbes growing in the International Space Station and determine whether or not they represent a health threat," NASA officials said in a statement. "A space-based DNA sequencer would be an important tool to help protect astronaut health during long duration missions on the journey to Mars, and future explorers could also potentially use the technology to identify DNA-based life forms beyond Earth."
Image 12 of 22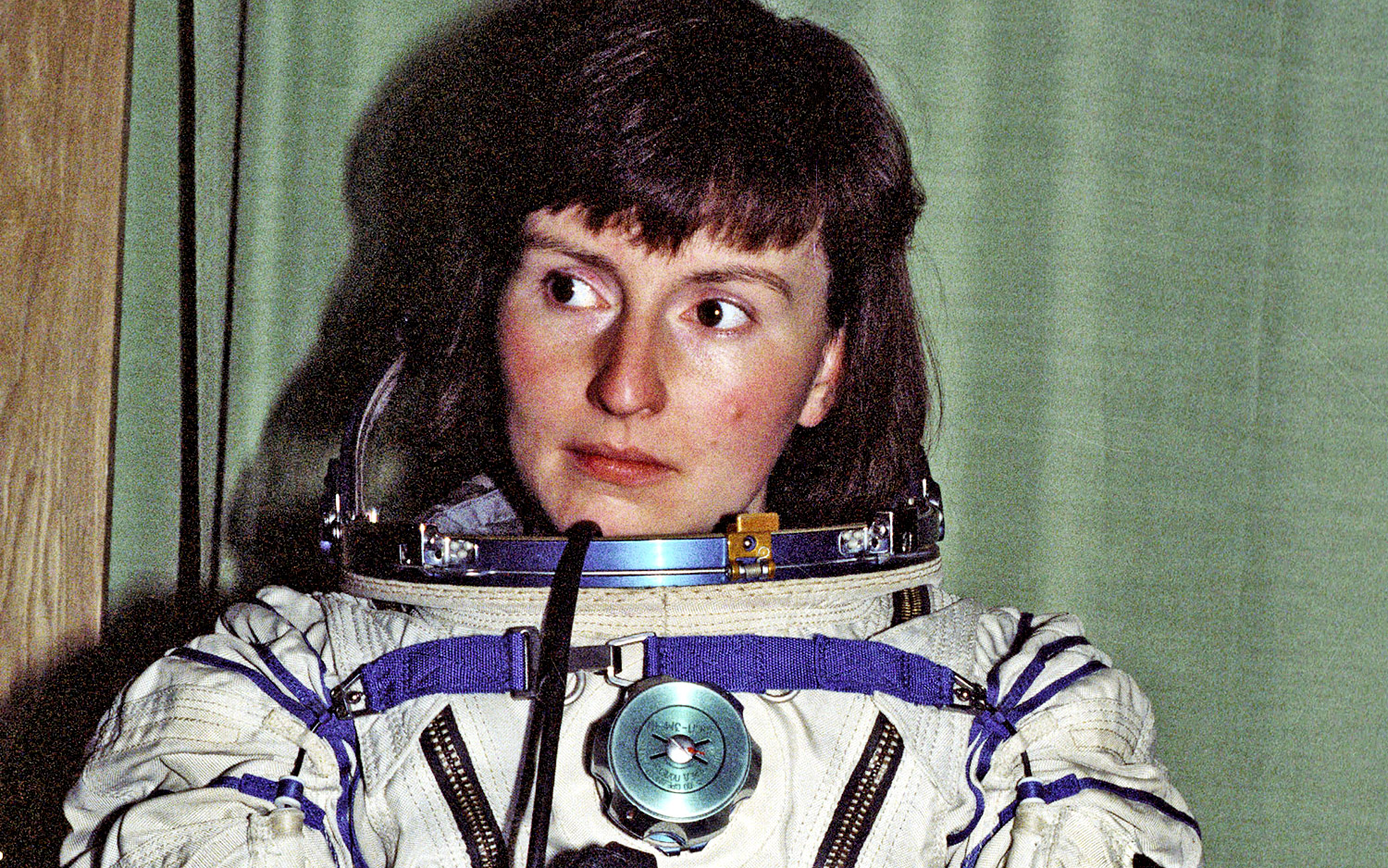 First Briton in space: Helen Sharman
British food chemist and private citizen Helen Sharman became the first British person to fly in space when she visited the Mir space station aboard the Soyuz TM-12 in May 1991. During this flight, she also became the first woman to visit the Mir space station.
Sharman's road to space was a bit different from the professional astronauts and cosmonauts of NASA and Russia's Roscosmos agency. 
In 1989, Sharman answered a radio advertisement calling for applicants to fly in space as part of Project Juno, a collaboration between private British companies and the Soviet Union to launch a Briton into space. She beat out nearly 13,000 other applicants to win the coveted spot and spent 18 months training to fly on Russia's Soyuz spacecraft. 
Sharman launched to Mir on May 18, 2991 and spent eight days in space performing biological and crystal growth experiments, as well as talking with British schoolchildren via radio. 
Image 13 of 22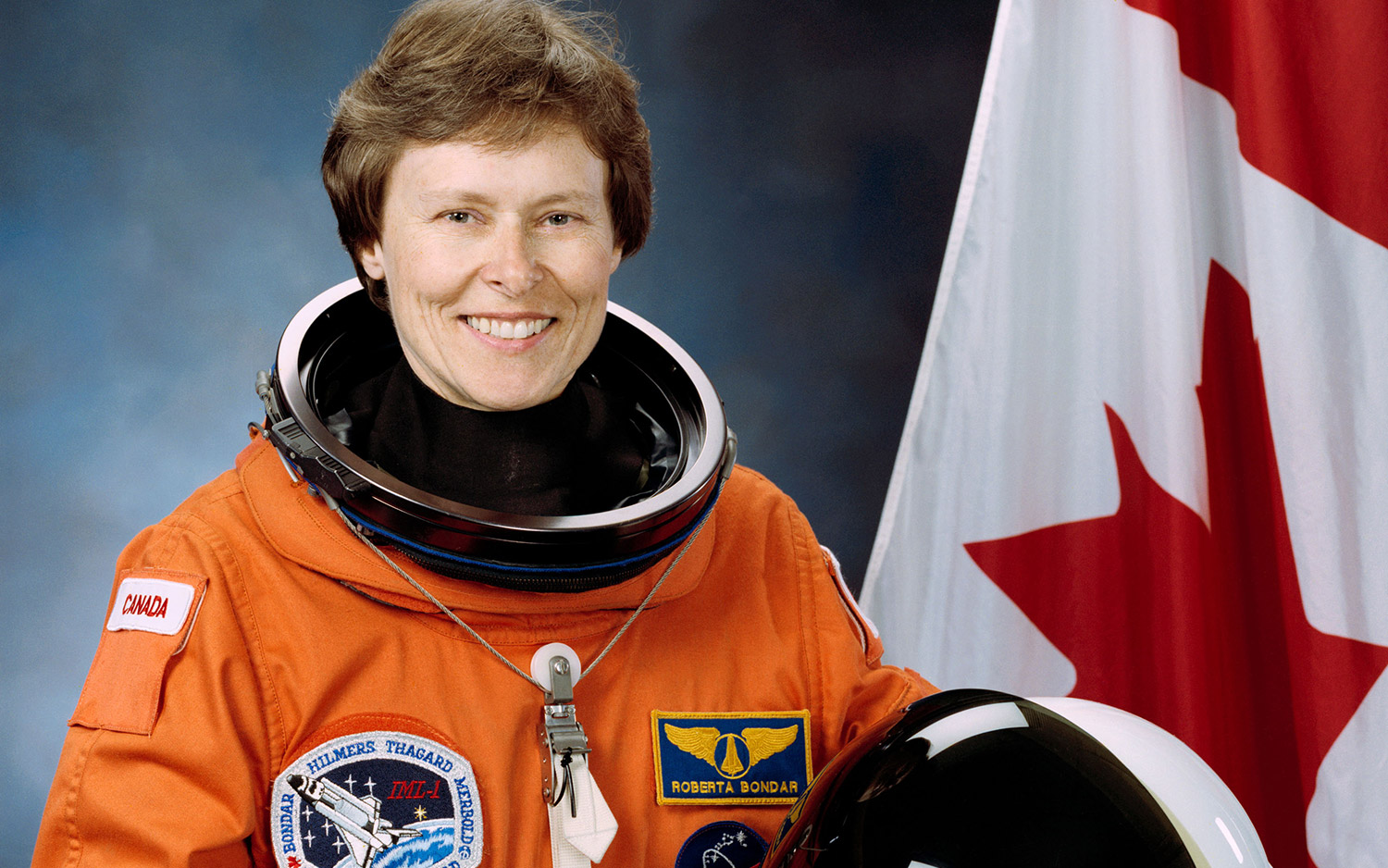 First Canadian woman in space: Roberta Bondar
Roberta Bondar became Canada's first female astronaut when she flew on the STS-42 space shuttle mission in 1992. 
Image 14 of 22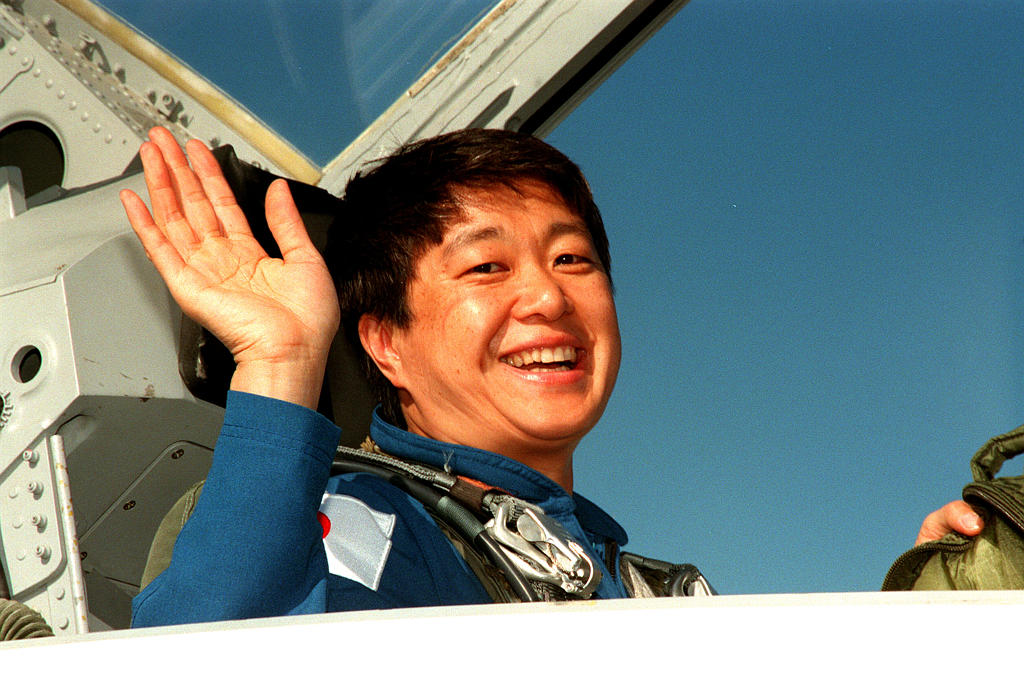 First Japanese woman in space: Chiaki Mukai
The first Japanese woman in space was Chiaki Mukai, representing the National Space Development Agency of Japan (NASDA). Mukai flew on the space shuttle Columbia during mission STS-65 in July 1994. At the time, she set the record for the longest flight to date by a female astronaut.
Image 15 of 22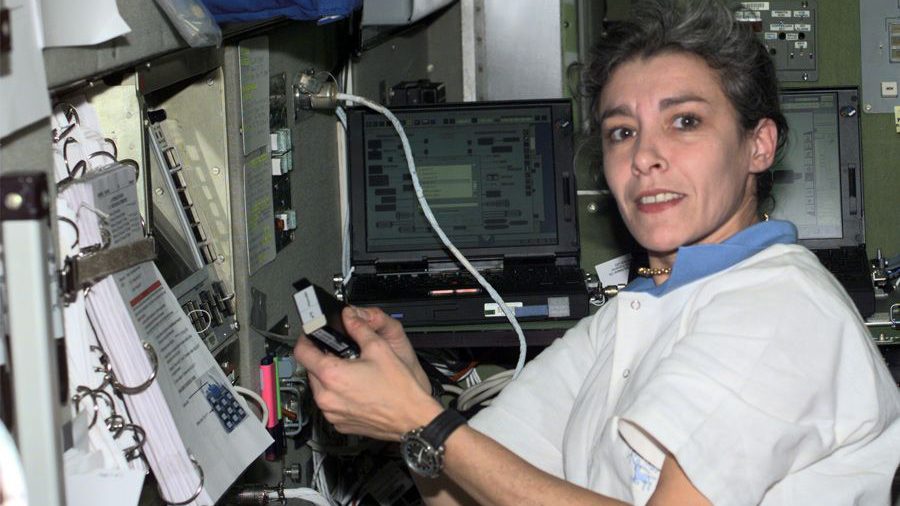 First French woman in space: Claudie Haigneré
Doctor Claudie Haigneré became the first and only French woman to travel to space when she flew to the Russian space station Mir in 1996. In 2001, she became the first European woman to visit the International Space Station.
Image 16 of 22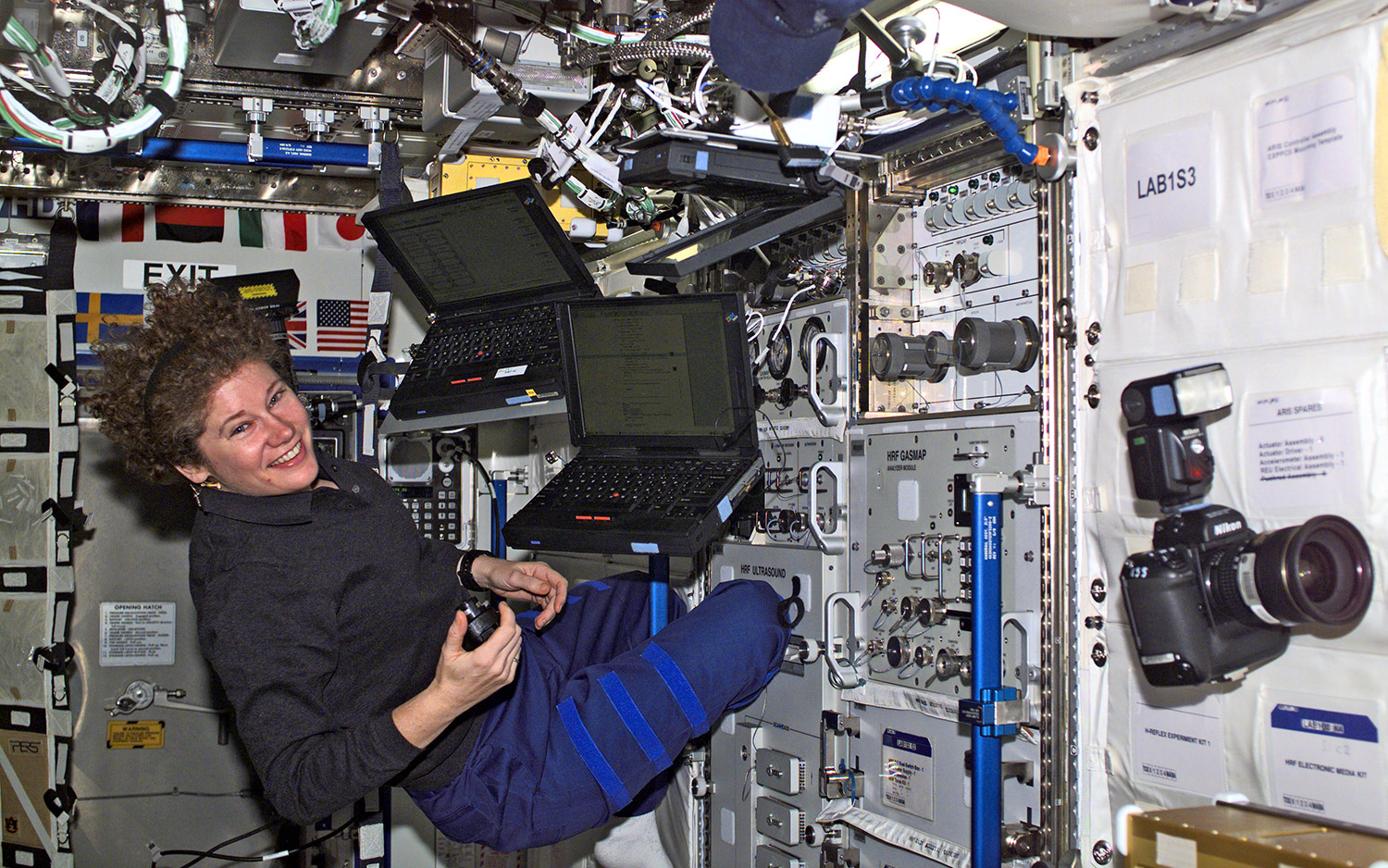 First woman to join an ISS crew: Susan Helms
The first female member of an International Space Station crew was NASA astronaut Susan Helms, who served as a flight engineer during the Expedition 2 mission from March to August 2001.
Image 17 of 22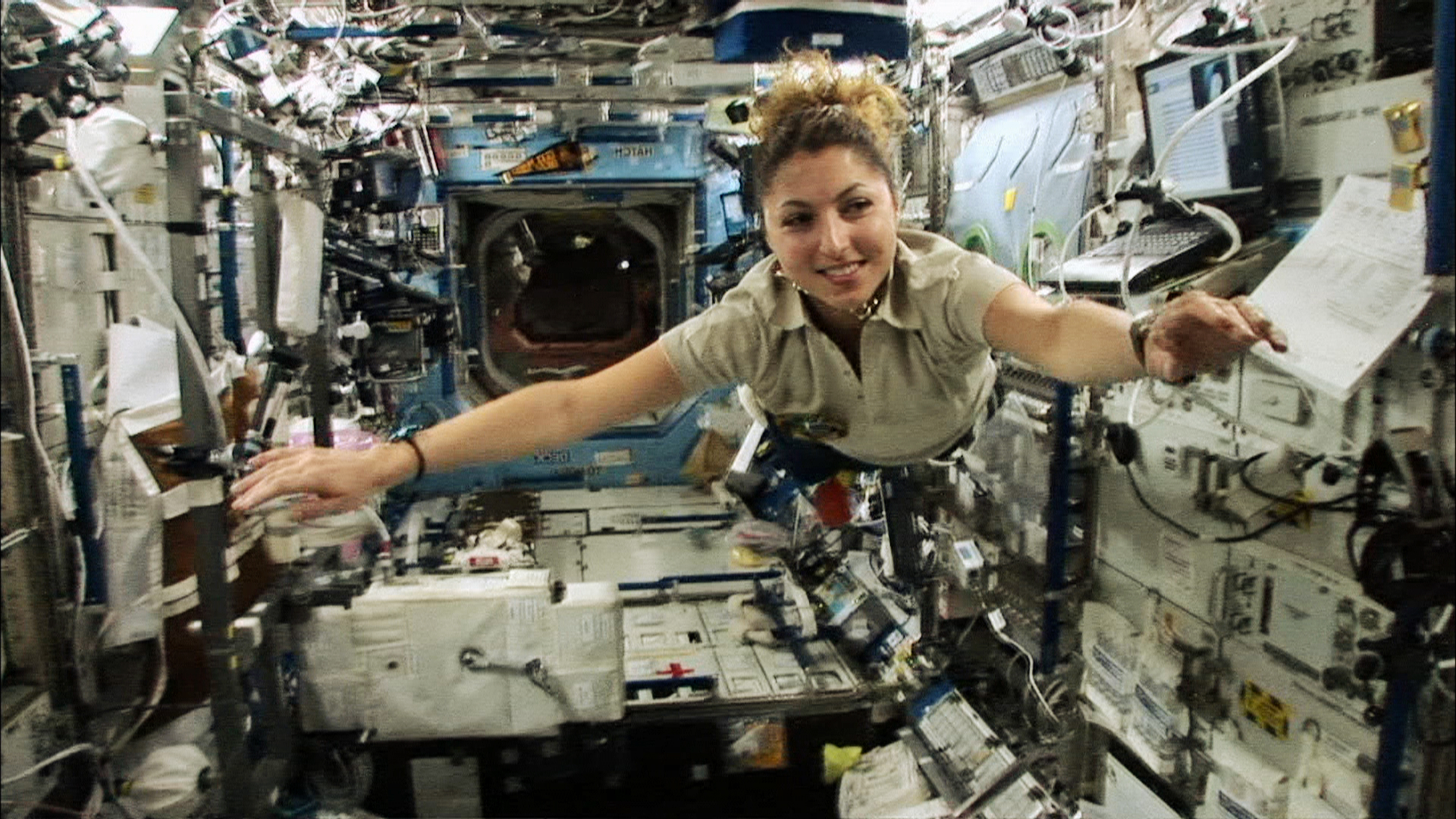 First female space tourist: Anousheh Ansari
Iranian-American entrepreneur Anousheh Ansari became the first female space tourist when she funded her own way to the International Space Station aboard a Russian Soyuz space capsule in 2006 through the firm Space Adventures.
Image 18 of 22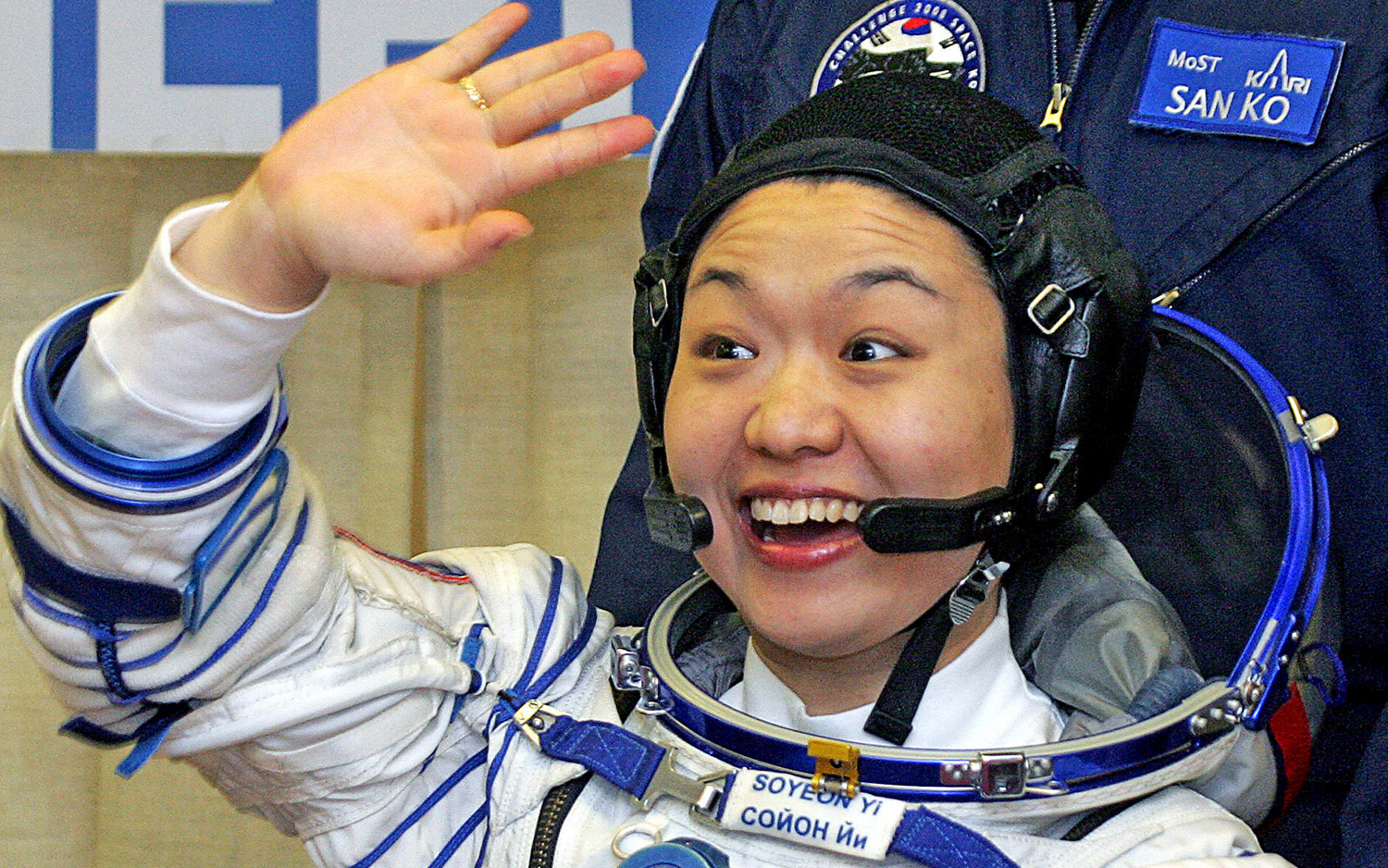 First South Korean in space: Yi So-yeon
South Korean astronaut Yi So-yeon became her country's first space traveler when she rode to the International Space Station on Russia's Soyuz TMA-12 in April 2008.
Image 19 of 22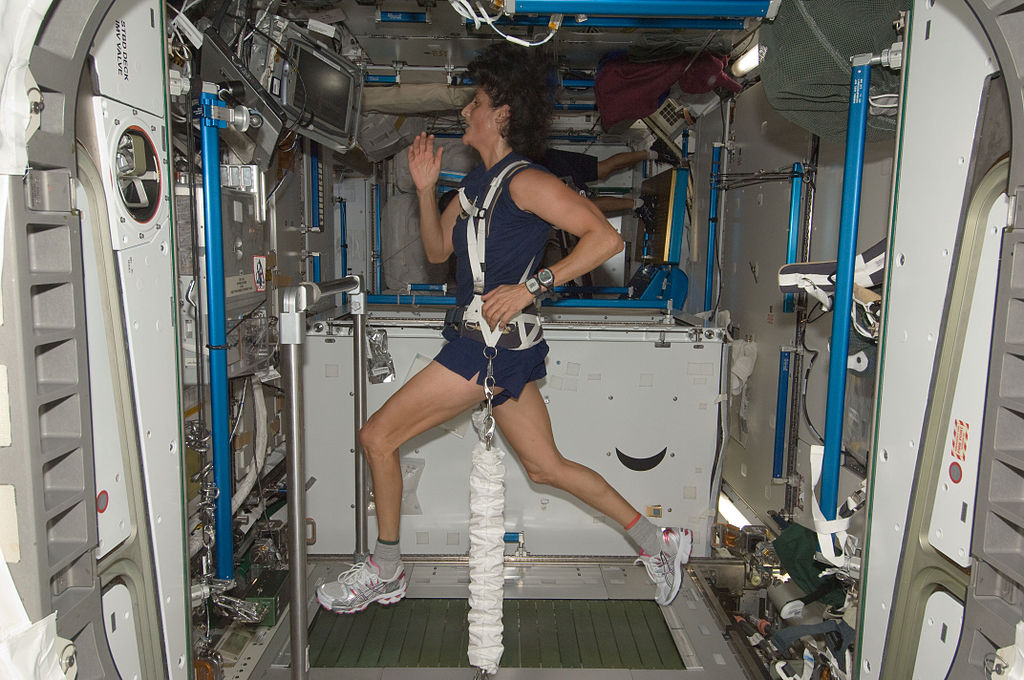 First marathon in space: Suni Williams
NASA astronaut Sunita Williams became the first person to run a marathon in space during the Expedition 15 mission in 2007. She officially registered for the Boston Marathon and ran 26 miles in 4 miles and 26 minutes on the Combined Operational Load Bearing External Resistance Treadmill (COLBERT) in the Tranquility node of the International Space Station.
Image 20 of 22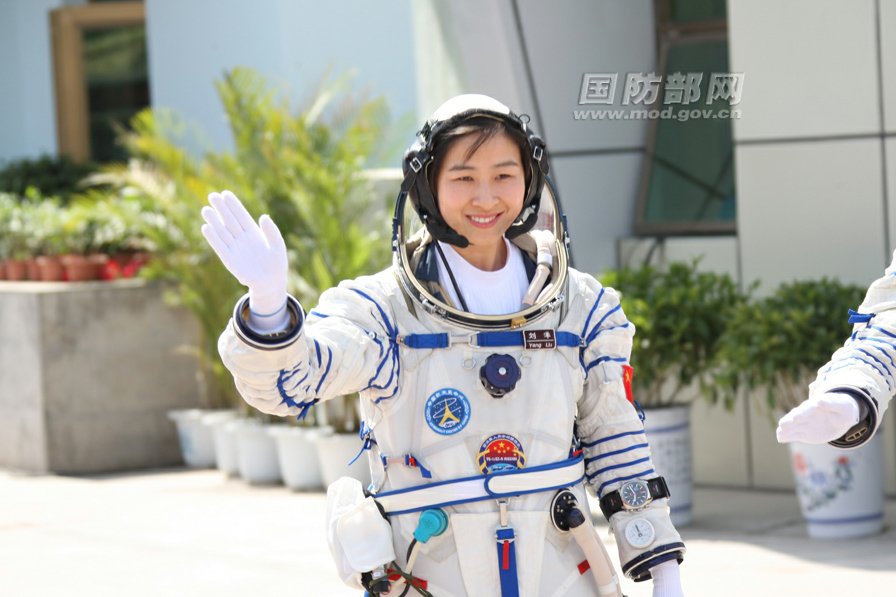 China's 1st female taikonaut: Liu Wang
China's first female astronaut Liu Wang waves to supporters while clad in a spacesuit just before boarding the Shenzhou 9 space capsule for a successful June 19, 2012 launch from the Jiuquan Satellite Launch Center.
Image 21 of 22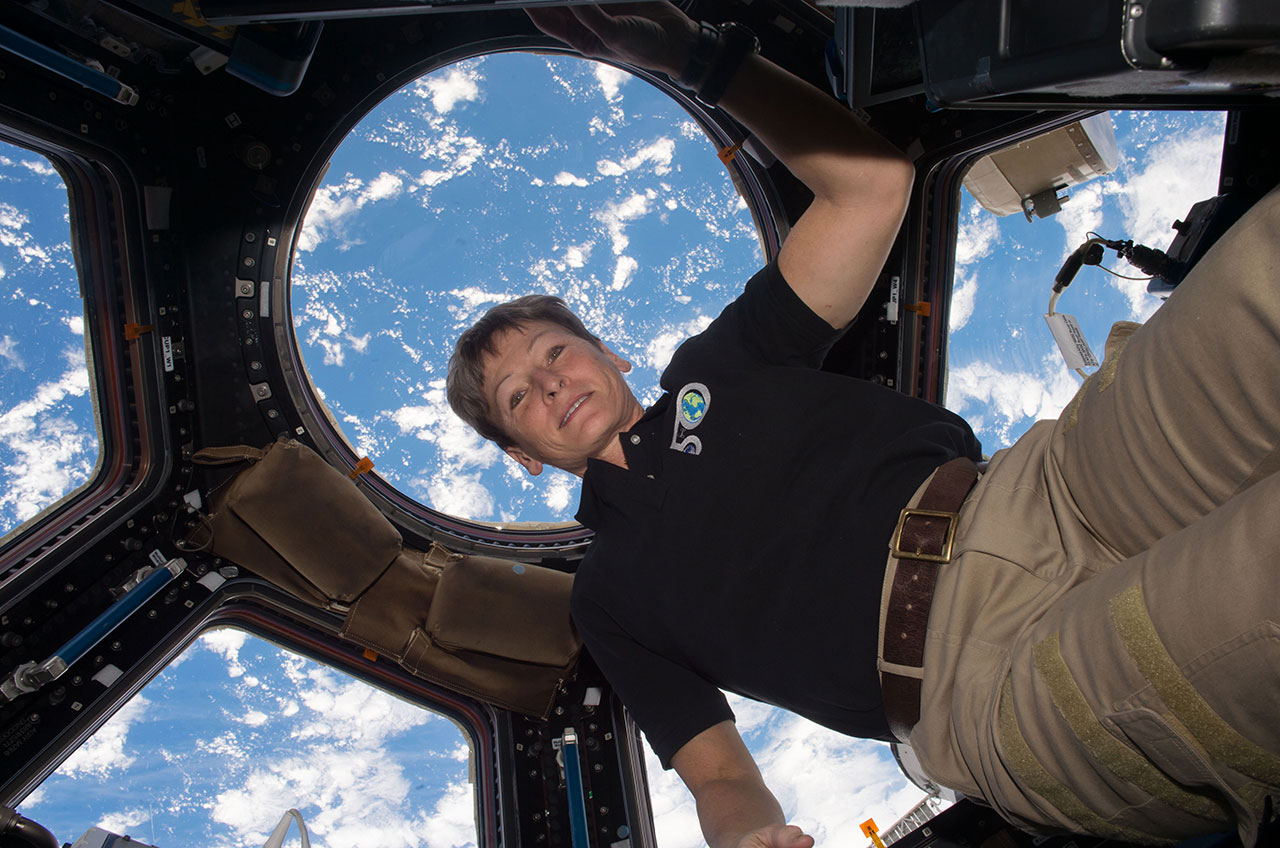 Most time in space: Peggy Whitson
The woman who has spent the most total time in space is Peggy Whitson, who has logged 665 days, 22 hours and 22 minutes in orbit over the span of three trips to the International Space Station. When she returned from her final trip to space in 2017, she had logged more hours in space than any U.S. astronaut — male or female.
Image 22 of 22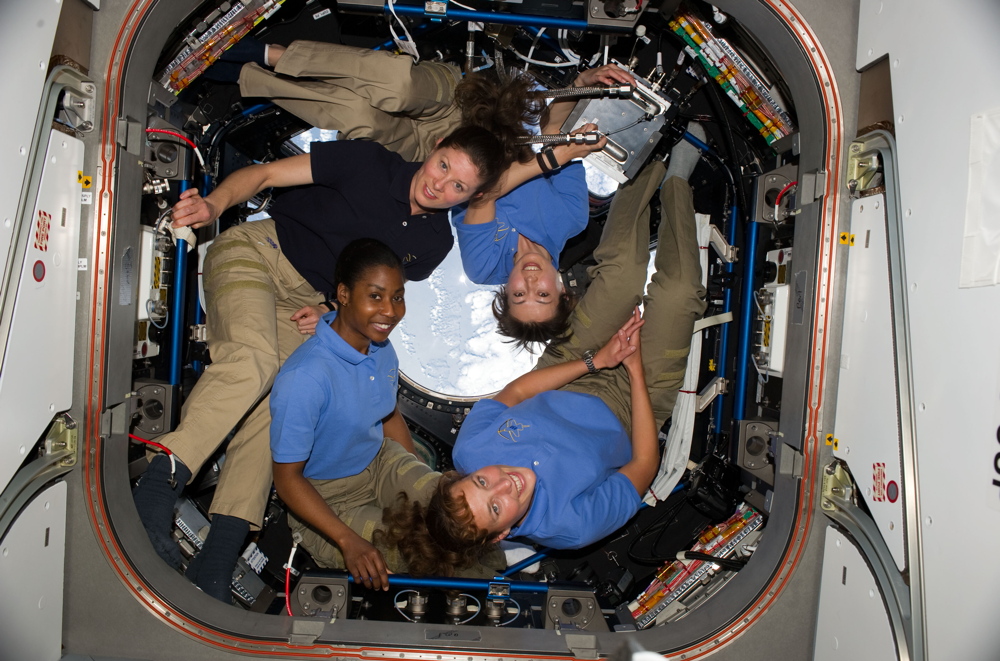 Four women in space
Four women serving together on the International Space Station on April 14, 2010, represented the highest number of women in space simultaneously. Clockwise from lower right are NASA astronauts Dorothy Metcalf-Lindenburger, Stephanie Wilson, both STS-131 mission specialists; and Tracy Caldwell Dyson, Expedition 23 flight engineer; along with Japan Aerospace Exploration Agency (JAXA) astronaut Naoko Yamazaki, STS-131 mission specialist.