Boeing's Starliner capsule is scheduled to return to Earth on Wednesday (May 25), and teams on the ground have been gearing to welcome the spacecraft home.
Starliner launched May 19 from Cape Canaveral Space Force Station in Florida and successfully docked with the International Space Station (ISS) a day later. The capsule's uncrewed Orbital Flight Test 2 (OFT-2) mission will wrap up soon, with a planned departure on Wednesday and subsequent landing in the White Sands Missile Range (WSMR) in New Mexico.
To help get ready, teams held a Starliner landing dress rehearsal on May 18 at White Sands Space Harbor, a spaceport that was formerly used as a space shuttle runway and a test site for rocket research. It was also the primary training area used by NASA for space shuttle pilots practicing approaches and landings in the Shuttle Training Aircraft and T-38 Talon aircraft.
Live updates: Boeing Starliner Orbital Flight Test 2 mission to ISS
Related: Boeing's Starliner OFT-2 test flight for NASA in amazing photos
Weather a significant factor
Karla James works for the Materiel Test Directorate as the Air and Space Branch Test Officer at WSMR.
James noted in an Army news release that she and her colleagues will determine Starliner's trajectory on the day of the anticipated landing. The WSMR Meteorology Branch will provide weather data, which they'll gather using weather balloons. Bad weather on Starliner's departure day could delay the spacecraft's return or cause the OFT-2 team to shift to a different landing site.
That team has identified five potential landing sites, by the way. Two are at WSMR (the space harbor and a location on Range Road 26), one is on the Dugway Proving Ground in Utah, another is on the Willcox Playa in Arizona and another is at Edwards Air Force Base in California. 
The WSMR, Boeing and NASA teams have been preparing for Starliner to potentially come down at either site on the missile range, the Army news release stated. Those teams also have contingency plans that can be executed within a few hours if the capsule ends up touching down earlier than originally anticipated.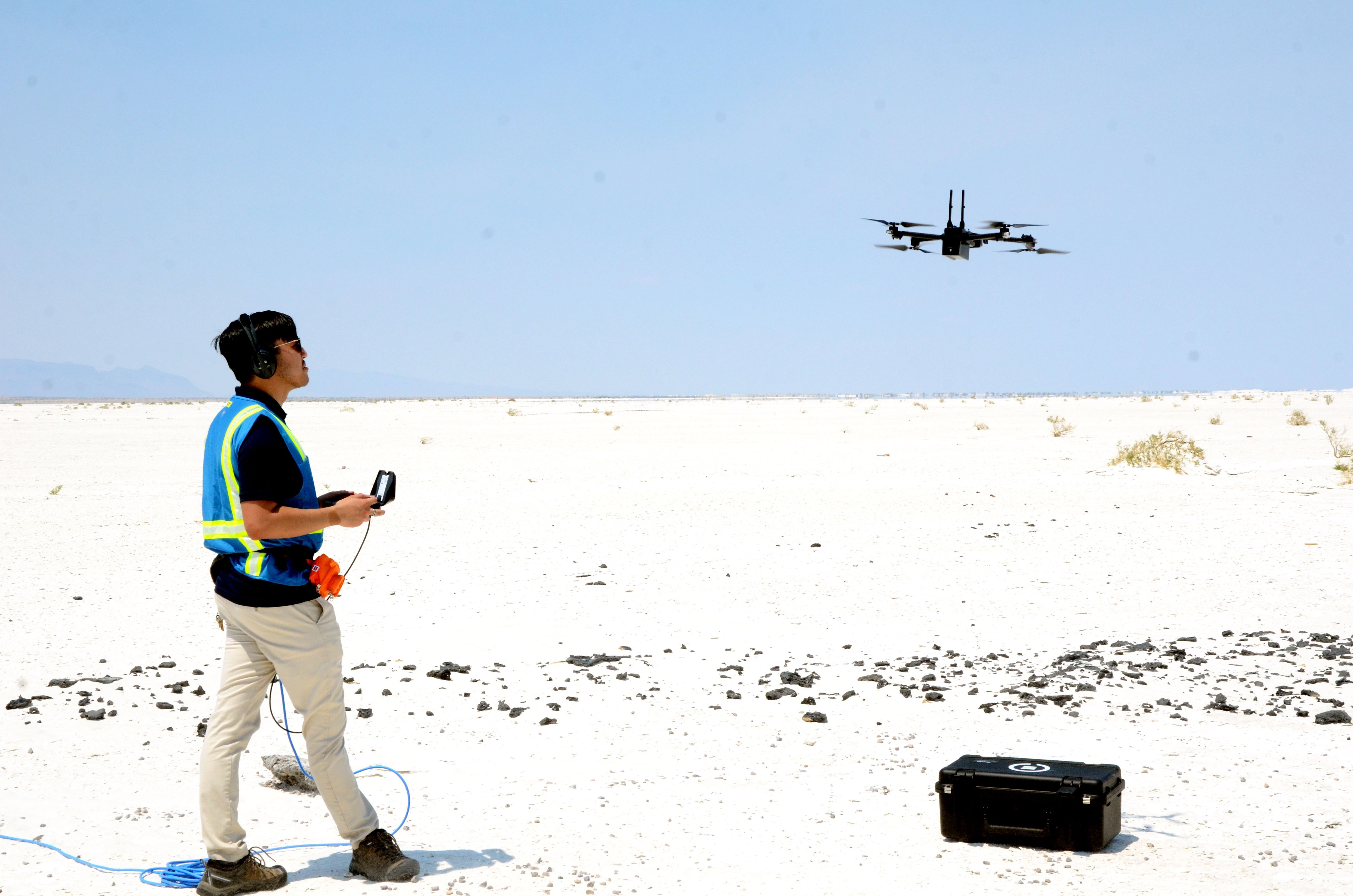 Landing sequence
The upcoming landing will be the second of a Starliner capsule at White Sands after a space mission. The first occurred in December 2019 to wrap up the original OFT, which ended prematurely after Starliner failed to meet up with the space station as planned. That touchdown was the first terra-firma landing of a human-rated capsule after a space mission in U.S. history. (NASA's Apollo spacecraft splashed down in the ocean, as SpaceX's Dragon crew and cargo capsules do now.)
In November 2019, a Starliner also landed successfully at WSMR during a test of its abort motors, which are designed to rocket a craft to safety in the event of an emergency during launch.
According to Boeing, on OFT-2 landing day, the parachute sequence will begin around 30,000 feet (9 kilometers) above the ground, when Starliner jettisons the forward heat shield that protects the parachutes during reentry. 
Two drogue parachutes will begin slowing Starliner down, then detach. The three main parachutes will then deploy and inflate. When Starliner is about 3,000 feet (0.9 km) off the ground, its airbags will inflate. On touchdown, those airbags absorb the initial forces of landing.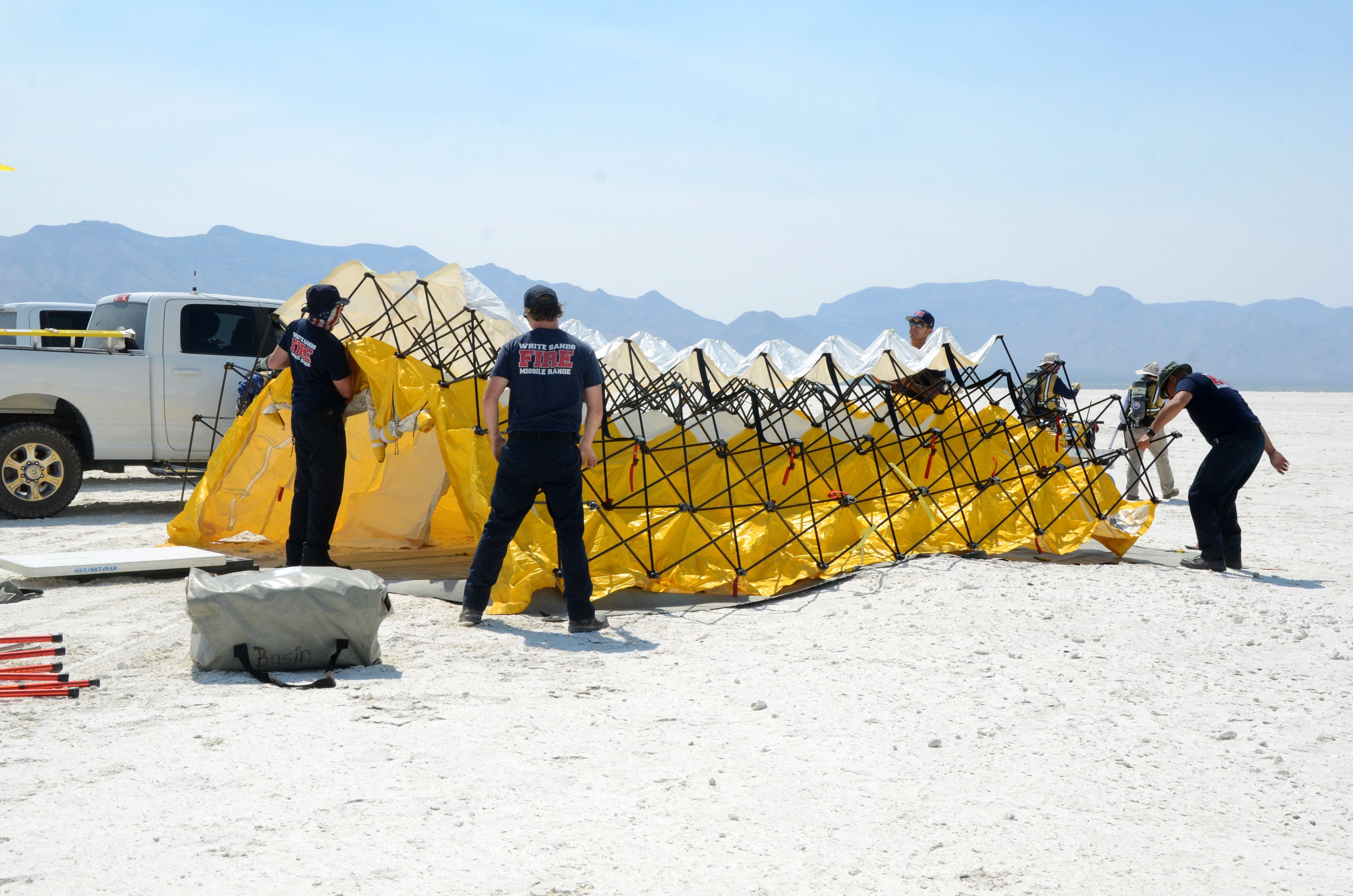 Ground recovery operations
On Starliner's landing day, according to the Army release, a drone will capture aerial views of the ground recovery operation, showing the various vehicles that head toward the capsule after it touches down.
Some of those vehicles will likely belong to the WSMR Garrison Fire Department, which has been trained to take part in the landing and recovery process. The fire department will also be trained in the future on how to deal with a returned Starliner when astronauts are on board — something that could happen before the end of the year, if all continues to go well with OFT-2.
Boeing is required to ensure that Starliner is safe to approach and open after landing. Boeing personnel in protective suits will monitor the levels of toxic hydrazine fuel present around the capsule and will determine where to set up the staging area.
"Upwind or downwind plays a key part in the location," James said.
Leonard David is author of the book "Moon Rush: The New Space Race," published by National Geographic in May 2019. A longtime writer for Space.com, David has been reporting on the space industry for more than five decades. Follow us on Twitter @Spacedotcom or on Facebook.